Still about a month off, Marvel's Fantastic Four revival will be getting a slew of variants. The latest to be announced comes from Joe Quesada.
Cosmic
A big part of the Fantastic Four has always been the cosmic side of the group. Stories that saw the team heading to the far reaches of space are plentiful, and their allies and villains reflect that. Marvel's various aliens have figured into the team's legacy, along with the likes of the Inhumans, Annihilius, and of course Galactus.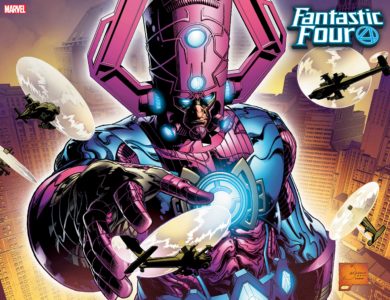 Artist and Marvel Chief Creative Officer Joe Quesada lends his talents here, to a cover that showcases that ultimate FF baddie, the devourer of worlds. Galactus just recently made another heel turn too in Marvel's U, so this is particularly timely.
Does the not-so-jolly purple and blue giant figure into this first return story for the team? Probably not, but it's cool to see him lording over NYC on the front of an FF book anyway.
The Galactus variant joins an ever growing list of alt-covers for Fantastic Four #1, including some that we showed you recently. You'll be able to pick your fave, or get 'em all, on August 8th. That's the date when Marvel's first family finally makes its triumphant return.