HBO will have a pair of exclusive items on the show floor at SDCC next month. If you like Dorbz and Pop!s (and dragons), you're in luck.
Pop
I don't remember HBO having any high profile exclusives at past cons, so this might be something new. Maybe. I could easily be wrong. In any event, Home Box Office has a pretty nice exclusive-duo set for release at the show. Both of them focus on Game of Thrones, as you might imagine. Both of them are Funko-powered too, with a Pop! of Olenna Tyrell and a set of dragon Dorbz.
If you're a pop culture fan of any ilk, you know what Pop!s are. This one showcases Tyrell, who was one of the more popular characters on GoT, in her robes with a glass of wine. Is it poisoned? I guess that's up to you.
As for the Dorbz, those are a little less well known. Dorbz are a somewhat new form-factor for Funko, and are basically a smaller and cutesier version of Pop!s. Yes, I said cutesier. No, you're wrong, it is possible.
Available at the HBO booth on the show floor (I think, it wasn't in the press release),  here's your official rundown:
Pop! Game of Thrones – Olenna Tyrell
Glass of wine in hand and wearing her signature ornate headdress, The "Queen of Thorns" now has her very own Pop! Funko!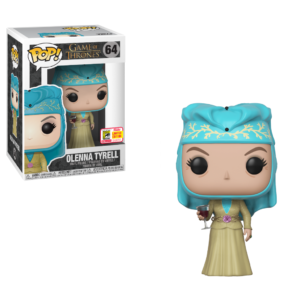 Dorbz: Game of Thrones – Dragons 4-pack
The fearsome dragons of Game of Thrones just got a whole lot cuter! Rhaegal, Drogon & Viserion, as well as the 'Icy' Viserion raised from the frozen depths by the Night King in Season 7, are all smiles in their exclusive 4-pack!