That headline might be a little confusing, but trust me it makes sense. DC Collectibles will be producing a line of Justice League animated figures, and they are tied to the DC Universe streaming service.
Justice is back
A natural evolution of the Batman: The Animated Series line from DC Collectibles, a Justice League series of action figures seems like a no-brainer. After all, the former toys were pretty darn popular with fans. And with this new license, DCC gets immediate access to a monstrous catalog of characters to pick from. Of course, the first offerings look to be the League members themselves.
Superman, Batman, and Wonder Woman headline an all-star squad here in the first promo image. Expanding things from the Trinity, we'll also be getting Flash, John Stewart, Hawkgirl, Aquaman, and Martian Manhunter. Cool stuff.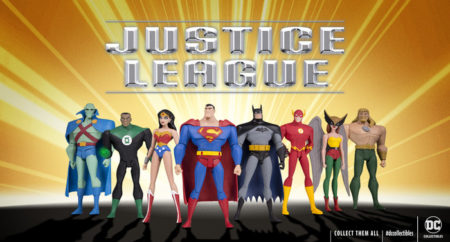 But let's get back to that headline. These figures are indeed tied into the new DC Universe subscription service. If you don't know what that is, in a nutshell, it's a streaming video service. DCU gives access to all the DC animated and live action programming you could want. That includes the new stuff like the excellent looking Titans, by the way.
And it also grants subscribers access to the exclusive ability to buy these action figures. Yep, that means no one else will be able to scoop these up. But fans who buy in will be able to pick up these 6″ figures this coming fall (no word on pricing yet). Not that that's all you get as a subscriber. According to DC, "members will have access to a wide range of exclusive, curated and hard-to-find DC merchandise from a variety of licensing partners before the rest of the world."
So yes, it's a little odd when you first hear it, but it's tough to deny that there are some awesome perks being brewed up here. And I think the plan is working. I wasn't seriously thinking of signing up for DC Unlimited, but now I can't see myself not. I love the animated Batman line, and I really want these bad boys and girls in my collection.
Interested? Click here for more.