Officially called "Joker: The Clown Prince of Crime Edition", this is a Mr J that some fans had been calling "Punk Joker". The figure kind of vanished for a while there, but far from being cancelled, he's now available for pre-order form Mezco Toyz.
Joker's a punk
I saw this Joker last quite some time ago… I think anyway. It's a little hard to tell with the One:12 Collective, since the figures are offered so far in advance. Or at least, they were. They've kind of changed that up. But let's get back to business, since we're looking at a pretty awesome Joker figure here.
This is a younger, and much more punk version of the classic DC Comics baddie, and includes accessories to match. With fingerless gloves and a very different costume (for Joker), you'll find two huge knives, an MP5, and a teddy bear with dynamite attached to it. That's different than what the standard Joker, or the deluxe version, comes with.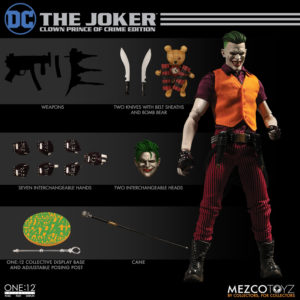 You an expect to see Joker hitting around Cover to January of this year and next, and he'll run you $80.00 USD. Pre-order him here.
And here's what's in the box:
THE ONE:12 COLLECTIVE JOKER FIGURE FEATURES:
One:12 Collective body with over 28 points of articulation
Two (2) head portraits
Hand painted authentic detailing
Approximately 17cm tall
Seven (7) interchangeable hands

One (1) weapon holding hand (R)
One (1) pair of posing/cane holding hands (L&R)
One (1) pair of knife holding hands (L&R)
One (1) pair of fists (L&R)
COSTUME:
Short sleeve button-down shirt
Tailored vest
Duty belt with knife sheaths
Pinstripe pants
Work boots
ACCESSORIES:
One (1) time bomb teddy bear
Two (2) knives (fits into sheaths on belt)
One (1) skull-handled cane