A pair of special collector's edition Atari VCS consoles will be hitting crowd-funding platform Indiegogo this month. And it sounds like any questions you might have about the forthcoming gaming center might be answered as well.
The classic returns
The Atari VCS is kind of odd. Well, its journey to retail has been at any rate.
Hinted at, teased, and then finally revealed, the VCS is still a pretty big mystery. That probably sounds strange, and that's because it is strange. Atari has revealed pretty much everything about their latest stab at the home gaming market except for what the machine actually does. Yes, that's right, the functionality of the VCS is still a bit of a question mark. So much so, that I had to use italics twice in this first paragraph. Make that three times.
Here's what we do know:
The VCS is a completely new Atari connected device, designed in California by Atari. The company has partnered with AMD who provides the Atari VCS custom processor with Radeon Graphics Technology. The Atari VCS platform will offer support for 4K resolution, HDR and 60FPS content, onboard and expandable storage options, dual-band WiFi and Bluetooth 5.0, as well as USB 3.0 support. A complete list of Atari VCS product specs will be posted with the pre-sale.
That last part there is the important bit, since it means that Atari will finally be revealing the guts of the machine.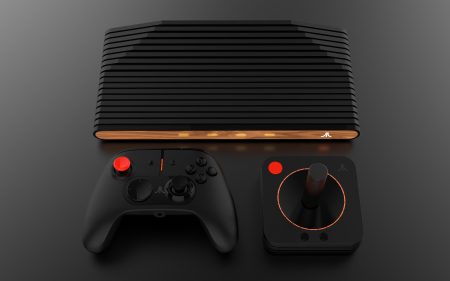 As for what will be playable on it, that's also a little cloudy
We now know that the VCS will have 100 games built in from the jump however, and those will include Atari classics like "Asteroids®, Centipede®, Breakout®, Missile Command®, Gravitar® and Yars' Revenge®".
According to the company, there will also be "new" games made for the console. So this isn't strictly a retro-box. Atari says to expect a "a full range of popular modern titles", all of which will be announced at a later date. Are they saying that there'll be Call off Duty tiles on the VCS? Or might they mean that modern indie titles will be making the jump? We just don't know.
Seems like we might be getting close though, since the VCS is set to hit Indiegogo on May the 30th. The system will cost you $199.99 USD, which isn't bad at all. There will reportedly also be more deluxe units listed in the campaign, including the modern controller as well as the classic Atari stick. No word on the difference in price just yet though.
Also notable is that the VCS will have a special edition that will only be available on Indiegogo. That'll be the onyx black unit. That stands in stark contrast to the basic system, which will play off of the classic Atari line of consoles, and feature a wood grained front.