In God of War, one of the most anticipated games of the year has arrived. How does the game feel after the first few hours? Let's say it looks like the hype was worth it.
An evolved Kratos: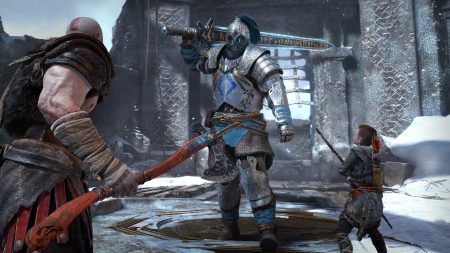 It is obvious that some amount of timehas passed between the end of God of War 3 and the beginning of the new God of War. Kratos is noticeibly older, has a beard that is beginning to go white and has a family in Midgard, or, the mortal realm of the Norse territories.
From the game's first few minutes, it is obvious that Kratos is changed. He is gruff towards his son, constantly referring to him not as Atreus, but as "boy." this should not be mistaken for hostility, though. It is obvious that Kratos cares deeply for his son, even from the brief encounters I have seen so far.
All that said, even with the obvious change from the start, I think the true growth we will see in this game will come not from individual characters, but from the relationships they forge in this new world.
Combat as brutal as ever:
One thing that had me a bit on edge leading up to release was the worry that combat would lose a bit of its edge.
Combat is now over the shoulder and much more personal. Sure, Kratos is not tearing through hundreds of enemies at any given moment, but the enemies he does fight are just as terrifying as the worst original God of War enemies. Each enemy poses a distinct threat, and when the number of enemies start to pile up, things can get hectic.
Atreus contributes in battle by shooting enemies with his bow. This is useful for tiny amounts of damage, but is extremely useful for building stun. When the stun gauge is full, you can unleash a brutal kill like stomping on the enemy's skull or tearing them in half.
The one boss fight I have so far completed so far ended in joyously brutal fashion. I can't wait to kill more trolls.
Presentation:
As it stands, the one-take direction that God of War is taking really works so far. Immersion is never broken for cut scenes, and all of the action takes place with no cuts.
There are a ton of really cool visual effects, like the freezing effect of the Leviathan Axe and the fire effects from the draugr.
Overall, I really cannot wait to see what else this game has in store for me.