One of DC Collectibles' premier statue lines, Cover Girls is fast becoming a top notch set of DC's heaviest-hitting females. At C2E2 this week, the company announced that the series would be welcoming in a very cool new rendition of Catwoman, by Joelle Jones.
Hero or villain?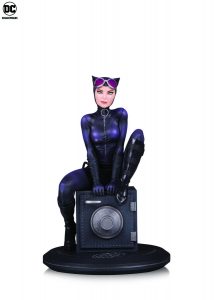 Given her current status, Selina Kyle is more or less a hero in the current DC Universe. After all, she's helped Batman and crew a few times in some big storylines. And then there's the fact that she's marrying Bruce Wayne himself. So she probably wouldn't best be classified as "villainous".
Not that she doesn't have a shady past, cause that she's got in spades. And I'm guessing she probably would still find it a little tough to avoid an easy score. That's just what the Joelle Jones starring statue that we've go there plays off of.
Catwoman sits atop a safe, certainly looking like she's about to dig in and crack it. Then again, maybe she's just waiting for some baddie to come calling, looking to do the same thing. Either way, it's a pretty cool piece, and would certainly make a nice addition to any Bat (or Cat) fan's collection.
Designed by Jones and sculpted by Jack Mathews, this 9″ statue arrives at retail this coming November, for the price of $125 USD. It's worth noting too however, that this is not Jones' first piece in the line. Her Harley Quinn just recently arrived, and she'll have Supergirl landing this month, with Batgirl coming up in August.