Fans of legendary comic book creator/writer/artist Frank Miller should be very happy. Expect to see no less than five new projects coming up from the icon.
One of the best
Frank Miller, among other things, crafted (or helped craft) some of the best comics of all time. Those books included incredible runs with Wolverine and Daredevil. But while Miller is known for a lot of things, there's one book that is perhaps his most notable. That would be his revamp of the Batman mythos, that completely redefined the character.
It was a revamp by the way, that has so far spawned two additional expansions for DC. But that's not all as the publisher also turned the Dark Knight into an animated film, and a bunch of action figures. Oh, and it was a major influence on the Batman that exists in the current DC film universe. Can't forget that one. Miller kind of built an Elseworlds Universe all by himself (even though it was never branded as such). Pretty darn impressive.
And as of last week, he'll be doing a whole lot more.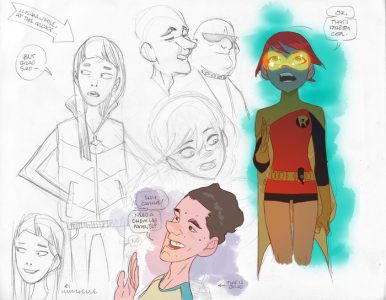 Miller and DC have come to an agreement that'll result in a total of five projects for the publisher, two of which are already known quantities. The first would be Superman: Year One with artist John Romita Jr, for DC's new non-canon Black Label imprint.
The second? That was just recently announced as well, and is a Carrie Kelley graphic novel. Fans should recognize that name as the Robin that Miller himself created for his landmark The Dark Knight Returns series. That book will be a standalone graphic novel aimed at young adult readers, with artist Ben Caldwell attached.
"I am psyched to continue my partnership with DC," explains Miller. "Developing the Carrie Kelley project and SUPERMAN: YEAR ONE with Dan and Jim has been a dream. It's thrilling to have Carrie Kelley take center stage for the first time, and the energy that Ben is bringing to her is new and different—it's incredible to see. It's also a lot of fun working alongside John on SUPERMAN: YEAR ONE, this project is a childhood dream come true for me."
As for the other three, mums the word right now.
But even so, the DC brass isn't making any bones about being thrilled to be working with the legend once more.
"Frank is a creative force in this industry, not just with a transformative take on iconic characters like Superman and Batman, but also by tackling the young reader genre," says DC Publisher Dan DiDio. "He is an icon. As a publisher, I'm thrilled—as a fan, I'm even more excited."

"Frank Miller is an absolute visionary," says DC Publisher Jim Lee. "He continues to push the boundaries of storytelling, and I can't wait for a new generation of fans to meet Carrie Kelley. Joining Frank as collaborator on Carrie Kelley is one of my favorite artists–Ben Caldwell, a singular talent who brings his stylized, clean line and rock solid, playful storytelling to this project. We couldn't ask for a better creative team."