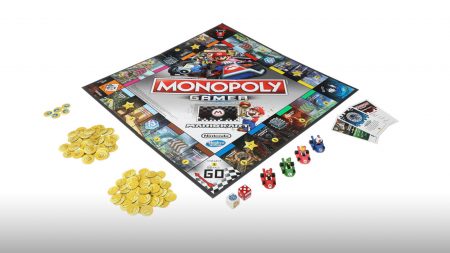 In a move that I certainly didn't see coming, a sequel to last year's "Monopoly: Gamer" is out now at GameStop.
The new version the game takes the augmented rules of Monopoly: Gamer and twists them even further. Instead of boss fights, players complete grand prix races after each go round' the board. Other parts of gameplay seem to remain, chiefly the property buying and money management aspects. The paper money is replaced with cardboard coins and certain board parts like the train stations are replaced with stars, hazards and more.
The new game comes with four characters – Mario, Luigi, Peach and Toad. Just like the original Monopoly: Gamer, more characters will be released in the future. For this iteration, those look to be Donkey Kong, Bowser, Shy Guy, Metal Mario and Yoshi.
You might be put off by the ability to buy more characters for a board game, but the fact that each character adds new dimensions to gameplay thanks to new abilities. The characters also look really nice for what they are- little plastic toys.
The board game is currently available at GameStop, and will be available at other retailers later in the year. I was blown away by how simple and fun the original Monopoly: Gamer was when I played it in late 2017. If this game manages to maintain the charm that "Gamer" packed, I can tell that it will be a favorite with me.