Ah, the creatures of the night… what beautiful music they make. Sounds kind of like they're saying Bram Stoker's Dracula By Mike Mignola is heading back to print. They must work for IDW Publishing.
Blah!
There are few Dracula films from the modern age that are as well thought of as Bram Stoker's Dracula. The horror flick reimagined the legend of the world's number one vamp with a level of darkness and maturity that few others have.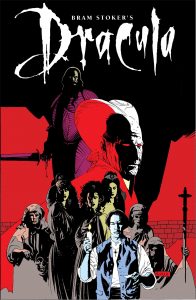 It was so well received that it got an adaptation from the now defunct Topps Comics, penciled by none other than Mike Mignola. The famed writer and artist added his own personal visual flair to the retelling, via his unique art style.
The book was actually his last piece before launching his own horror/superhero universe with Hellboy. So it's notable for that as well as just being a great translation of the original work. As you might expect, Mignola made Dracula as much his as the film was Coppola's. So much so, that it's been one of his most-requested titles to see reprint for years.
"I cannot tell you what a relief it is to have this book back in print," said artist Mike Mignola. "People have been asking about this one for ages—More than any other book of mine—and I honestly didn't think it was ever going to be possible to see an edition, but here it is. Thank you Scott Dunbier and IDW. No idea how you did it but very glad you did. I'm generally not a fan of my older work (pretty huge understatement there) but I think this one holds up. Despite the fact that I was doing a movie adaptation (which has its own unique set of problems) I think there is some nice drawing and storytelling in here. One of the very few older jobs I'm still pretty proud of."
Clocking in at 136 pages, Bram Stoker's Dracula By Mike Mignola will hit stores one more time this fall. It's available for pre-order right now via most booksellers.