Toy Fair is still a ways off, but DST is revealing a few of their upcoming goodies. Check out some of the DC, Marvel, NBX, and Kingdom Hearts stuff they'll have on hand.
Select collectibles
DST is kind of a juggernaut in the collector's market. The company has been plugging away for ages, making some truly cool stuff for almost every corner of fandom. This upcoming year will be no different, as you can see below.
Whether you're a DC or Marvel fan, a Nightmare Before Christmas follower, or looking forward to the upcoming Predator movie, there's something for you.
Scroll down and have a look at what's coming.
Batman Animated Ra's Al Ghul Resin Bust

A Diamond Select Toys Release! The Demon's Head has arrived! One of Batman's oldest villains joins his rogues gallery as part of DST's bust line based on Batman: The Animated Series! Featuring his distinctive appearance from the show, this approximately 6-inch resin bust of Ra's Al Ghul is ready to pounce on a pedestal base inspired by the architecture of Gotham City. This bust is limited to only 3,000 pieces, and comes packaged in a hand-numbered, full-color box with a certificate of authenticity. Sculpted by Varner Studios! (Item #FEB182293, SRP: $59.99)
Also Coming Soon:
Clayface Bust (Item #DEC172270, SRP: $59.99)
Killer Croc Bust (Item #JAN182370, SRP: $59.99)
Batman Classic TV Series Batgirl Vinyl Bust Bank

A Diamond Select Toys Release! Nananananananana bat-bank! DST's detailed and affordable line of vinyl banks based on the Batman Classic TV Series continues with a new character — Barbara Gordon, a.k.a. Batgirl! The purple powerhouse is now a 7-inch vinyl bank, with a coin slot on the back and an access door in the base. With the authentic likeness of actress Yvonne Craig and collectible-quality sculpting and paint applications, this bank comes packaged in a clear polybag. Hand-sculpted by Jean St. Jean! (Item #JAN182371, SRP: $22.99)
DC Vinimates Injustice Vinyl Figures

A Diamond Select Toys Release! The DC Vinimates line returns to the world of DC Comics-inspired video games with three vinyl figures based on the world of Injustice!  Batman, Black Manta and Harley Quinn each feature their game-specific outfits, with Black Manta wielding twin daggers and Harley Quinn packing a pistol. Each Vinimate stands approximately 4 inches tall and is sculpted in a block-figure style. Each comes packaged in a full-color window box.
Batman Vinyl Figure (Item #FEB182295, SRP: $9.99)
Black Manta Vinyl Figure (Item #FEB182296, SRP: $9.99)
Harley Quinn Vinyl Figure (Item #FEB182297, SRP: $9.99)
Also Coming Soon:
DC Vinimates Comic Series 3 Batman Vinyl Figure (Item #JAN182373, SRP: $9.99)
DC Vinimates Comic Series 3 Catwoman Vinyl Figure (Item #JAN182374, SRP: $9.99)
DC Vinimates Comic Series 3 Batwoman Vinyl Figure (Item #JAN182375, SRP: $9.99)
DC Vinimates Supergirl TV Show Supergirl Vinyl Figure (Item #DEC172256, SRP: $9.99)
DC Vinimates Supergirl TV Show Martian Manhunter Vinyl Figure (Item #DEC172257, SRP: $9.99)
DC Gallery Arrow TV PVC Diorama

A Diamond Select Toys Release! You have failed this city! The Green Arrow brings his brand of justice to the DC Gallery line with this sculpture of Oliver Queen from the CW TV series Arrow! Based on Stephen Amell's portrayal of the character on the show, this 9-inch PVC diorama shows him drawing an arrow from his quiver atop a Starling City rooftop. This sculpture features detailed sculpting and paint applications and comes packaged in a full-color window box. Sculpted by Rocco Tartamella!
PVC Diorama   SRP: $45.00
Also Coming Soon:
DC Gallery Flash TV Series PVC Diorama (Item #JAN182372, SRP: $45.00)
DC Gallery Supergirl TV Show PVC Diorama (Item #DEC172255, SRP: $45.00)
DC Gallery Justice League Movie Wonder Woman PVC Diorama (Item #DEC172251, SRP: $45.00)
Femme Fatales Gallery Dawn Executive Goddess PVC Statue

A Diamond Select Toys Release! It's business time! The ever-changing Dawn, star of Joseph Michael Linsner's comic books of the same name, returns to the Femme Fatales PVC statue line with this 9-inch sculpture of her in her Executive Goddess attire! You'll have your fingers crossed for a hostile takeover once you get this statue onto your conference table! Made of high-quality plastic with collectible-quality paint applications, this statue comes packaged in a full-color window box. Designed by Joseph Michael Linsner, and sculpted by Sam Greenwell! (Item #FEB182299,SRP: $45.00)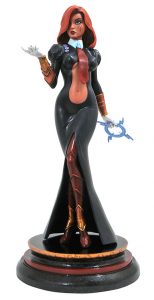 Kingdom Hearts Select Action Figures Series 2 Asst.

A Diamond Select Toys Release! It's time to return to the Kingdom! The second series of Kingdom Hearts Select Action Figures brings fans new, beloved Disney characters as well as characters created for the Kingdom Hearts series of games! Three sets of figures arrive in Series 2, including Roxas with Donald Duck and Goofy, Pete with Chip and Dale and a Soldier, and Aqua with Goofy in his Birth By Sleep Outfit! Action figures range from 2 to 7 inches tall and feature multiple points of articulation. Each set comes packaged in the display-ready Select action figure packaging with side-panel artwork. Sculpted by Oluf W. Hartvigsen! (Item #SEP178688, SRP: $24.99/ea.)
Kingdom Hearts Vinimates Vinyl Figures Series 2

A Diamond Select Toys Release! The toy story continues! The Vinimates line dives deeper into the world of Kingdom HEarts with three new 4-inch vinyl figures based on the hit video game series. Organization 13 Mickey Mouse, in his black coat, is joined by his old rival Pete, as well as Tron in his Tron-style outfit from Space Paranoids! Each figure is sculpted in the block-figure style, striking a pose inspired by the game. Each comes packaged in a full-color window box.
Org. 13 Mickey Vinyl Figure (Item #JAN182365, SRP: $9.99)
Pete Vinyl Figure (Item #JAN182366, SRP: $9.99)
Space Paranoids Sora Vinyl Figure (Item #JAN182367, SRP: $9.99)

Marvel Gallery Savage Land Rogue PVC Diorama

A Diamond Select Toys Release! She'll steal your powers, and your heart! This 9-inch sculpture of the X-Men's Rogue is based on her famous Savage Land storyline, in which the power-absorbing mutant found herself stranded with Magneto in the Antarctic paradise. Based on Jim Lee's artwork, this 9-inch PVC diorama shows Rogue in her distinctive outfit from the story, and features detailed sculpting and paint applications. Packaged in a full-color window box. Sculpted by Alejandro Pereira! (Item #FEB182308, SRP: $45.00)
Also Coming Soon:
Marvel Gallery Black Panther Movie PVC Diorama (Item #DEC172278, SRP: $45.00)
Marvel Gallery Black Panther Movie Killmonger PVC Diorama (Item #JAN182376, SRP: $45.00)
Marvel Gallery Black Widow Comic PVC Diorama (Item #DEC172277, SRP: $45.00)
Marvel Gallery Netflix Punisher Version 2 PVC Diorama (Item #JAN182377, SRP: $45.00)
Marvel Premier Collection Elektra Resin Statue

A Diamond Select Toys Release! She'll pierce your heart, and we don't mean figuratively! This breathtaking sculpture of Marvel's premier assassin is posed atop a marbled pedestal, holding her signature twin sais. Measuring approximately 16 inches tall, this 12-inch scale statue features detailed hand sculpting by Clayburn Moore, as well as high-quality paint applications. Statue comes packaged in a full-color box with a hand-numbered certificate of authenticity. Limited to only 3,000 pieces! (Item #FEB182309, SRP: $150.00)
Also Coming Soon:
Marvel Premier Collection Cable Resin Statue (Item #DEC172279, SRP: $150.00)
Nightmare Before Christmas Deluxe Collection Cloth Dolls

A Diamond Select Toys Release! The Nightmare Before Christmas Deluxe Collection is back, and it's more deluxe than ever before! Two new releases take the line into new territory, with Snowman Jack — who includes a removable snowman costume, with hat and umbrella – and Lock, Shock and Barrel, the line's first three-pack, with removable hat and masks! Each cloth-costumed figure looks like it stepped off the movie screen, with multiple points of articulation. Lock, Shock and Barrel measure approximately 5 inches tall, and Jack measures 16 inches tall with doll stand.
Snowman Jack Doll (Item #FEB182304, SRP: $79.99)
Lock Shock Barrel Dolls (Item #FEB182305, SRP: $74.99)
Nightmare Before Christmas Resin Busts

A Diamond Select Toys Release! Turn your shelf into a nightmare! The cast of Tim Burton's Nightmare Before Christmas continues to populate DST's line of resin busts. Featuring the movie's most popular characters atop diorama bases, the line continues with villain Oogie Boogie and Jack Skellington's dog, Zero. Oogie measures approximately 7 inches tall atop a pedestal inspired by his lair, while Zero stands approximately 4 inches tall atop a pile of books and a jack o'lantern. Each bust is limited to 3,000 pieces and includes a numbered certificate of authenticity in a full-color box. Sculpted by Joe Menna!
Oogie Boogie Bust (Item #FEB182306, SRP: $59.99)
Zero Bust (Item #FEB182307, SRP: $59.99)

Pacific Rim Uprising Select Action Figures Series 2 Asst.

A Diamond Select Toys Release! Cancel the apocalypse! Three new Jaegers are joining the fight against the kaiju menace, and each giant robot is cooler than the last! The mysterious Obsidian Fury with his twin blades, Guardian Bravo with his mace, and Titan Redeemer with his whip each measure between 7 and 8 inches tall, and each features approximately 16 points of articulation, plus interchangeable parts that are exclusively available to the specialty market! Packaged in display-ready Select action figure packaging, with side-panel artwork for shelf reference. Sculpted by Gentle Giant Studios! (Item #JAN182369, SRP: $24.99/ea.)
The Predator Movie Minimates Box Set

A Diamond Select Toys Release! The Predator is back, and it's all brand-new! Shane Black's new take on the Predator franchise is joining the Predator Minimates line, and this box set includes four figures from the upcoming film that are exclusive to comic shops and specialty stores! Each Minimates mini-figures stands approximately 2 inches tall with 14 points of articulation and feature fully interchangeable parts and accessories. Packaged in a full-color blister card. (Item #FEB182298, SRP: $24.99)