Earthrealm's Thunder God has never looked better. PCS' take on the Mortal Kombat II version of Raiden is up for pre-order.
As long as there has been a Mortal Kombat tournament, Raiden has been there to guide the forces of good to victory. An Eternal God of Thunder and designated protector of Earthrealm, Raiden battles Shao Kahn and the forces of Outworld in an unending struggle to keep Earthrealm safe.
Test your might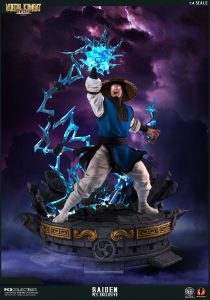 PCS has seriously been cranking on the fighting game properties as of late. With their series' of Street Fighter and Mortal Kombat statues, the company is making a serious impact in the collector market. This latest offering, MK's Raiden, is right there with the rest in terms of quality. Actually, he might be the coolest one yet.
This isn't just a spot-on sculpt either. Raiden's eyes and electric bolts actually light up the way you see in the promo image above. That's thanks to some built-in LEDs, not actual mystical energy blasts.
Raiden is currently slated for a Feb – April 2019 release, so he's still a long ways off. Yeah, that's 2019, not 2018. We're talking over a year till you can add him to your collection. Though, that should give you plenty of time to pay him off.
As you might have guessed, he ain't cheap. Raiden will cost you $549.99 USD, though he's a little less with either a payment plan (save 5%) or if paid in full, all at once (15% off).