Lots of cool stuff including those Justice League Vinimates are in stores this week, courtesy of Diamond Select Toys.
Make out those lists
Just in time to get added to the old Christmas list is this new selection of stuff from Diamond. There's not only a lot of stuff landing in stores this week from the company, but it's a pretty great spread too. There are statues, busts, a diorama, and of course Vinimates.
The Justice League movie might not have exactly burned up the movies last month, but the Vini's still look pretty dang cool. The remainder of the movie League is included in this wave, with Batman, Wonder Woman, and Flash already out there. So if you're a big DC fan, then you might want to check these out.
Speaking of DC, there's also a Batman: The Animated Series diorama out. It's got Harley Quinn sitting atop a subdued Bat. Honestly, it's kinda weird.
On the Marvel side of things, there are some neat Spider-Gwen and Netflix Elektra statues. And then there's the pair of Nightmare Before Christmas busts. 'Tis the season you know.
Here's what's available this week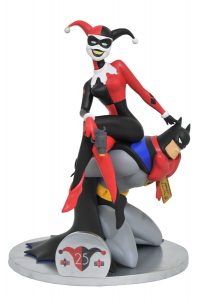 DC Gallery Deluxe Batman TAS Harley Quinn 25th Anniversary PVC Diorama
A Diamond Select Toys Release! Harley Quinn is turning 25, but you get the present! The first-ever Deluxe DC Gallery PVC Diorama celebrates Harley's 1992 debut on Batman: The Animated Series with a new diorama of the Joker's gal pal sitting on top of a gift-wrapped Batman – an anniversary present to Harley from her Puddin'! Measuring almost 10 inches tall, this diorama features detailed sculpting and paint applications and comes packaged in a full-color window box. Sculpted by Varner Studios! (Item # APR172648, SRP: $60.00)
Justice League Movie Vinimates Vinyl Figures
A Diamond Select Toys Release! Complete the League with this all-new assortment of Vinimates vinyl figures based on the new Justice League feature film! Superman, Aquaman and Cyborg team up to take on the forces of evil in this new batch of figures from the highly anticipated movie. Each 4-inch vinyl figure is sculpted in a block-figure style, striking a pose straight from the movie. Each comes packaged in a full-color window box. Also available: Batman, Wonder Woman and the Flash!
Superman Vinyl Figure (Item # JUL172792, SRP: $9.99)
Aquaman Vinyl Figure (Item # JUL172793, SRP: $9.99)
Cyborg Vinyl Figure (Item # JUL172794, SRP: $9.99)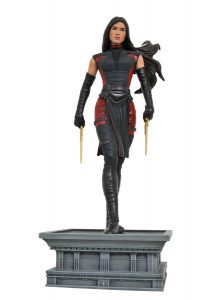 Marvel Gallery Netflix TV Elektra PVC Diorama
A Diamond Select Toys release! The Netflix series of Marvel Gallery PVC dioramas continues with the assassin Elektra! Based on her appearance in Daredevil Season 2 on Netflix, this PVC figure of Elodie Yung as Elektra stands atop a pedestal inspired by a New York City rooftop, uniting it thematically with the other Netflix releases. Measuring approximately 10 inches tall, this diorama features detailed sculpting, exacting paint applications, and an authentic likeness. Packaged in a full-color window box. Sculpted by Varner Studios! (Item #MAY172530, SRP: $45.00)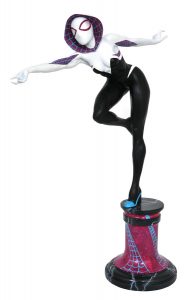 Marvel Premier Collection Spider-Gwen Masked Resin Statue
A Diamond Select Toys release! The Spider-Woman of Earth-65 is taking the Marvel Universe by storm, whether she's fighting alongside other spider-heroes against the Inheritors, or playing with the Mary Janes in a battle of the bands! This 12-inch scale masked variant of our "Spider-Gwen" statue shows her alighting on a pillar, preparing to shoot a webline while balanced on one foot. Sculpted by Clayburn Moore, this resin statue is limited to an edition of 1,000 pieces, and comes packaged with a certificate of authenticity in a full-color window box. (Item #MAY172532, SRP: $150.00)
Nightmare Before Christmas Resin Busts
A Diamond Select Toys Release! Move over, elf – there's a skeleton and a rag doll on the shelf! These highly detailed resin busts of Jack Skellington and Sally the Rag Doll from Tim Burton's The Nightmare Before Christmas each measure approximately 6 inches tall and sit atop detailed bases depicting the buildings of Halloween Town. Limited to only 3,000 pieces each, they each come packaged with a numbered certificate of authenticity in a full-color, hand-numbered box. Sculpted by Joe Menna!
Jack Bust (Item # APR172629, SRP: $59.99)
Sally Bust (Item # APR172630, SRP: $59.99)