A low cost, yet high quality headset may seem like a contradiction, but CORSAIR engineers
have struck the perfect balance between performance and price. Check out our Corsair HS50 Review.
Corsair Quality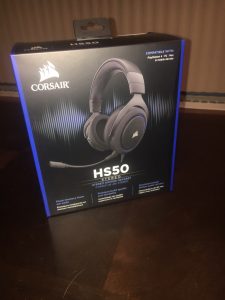 Corsair's new HS50 Stereo Headphone for Gaming were a surprise from start to finish. I have had my hands on some great and not so great headphones over the years. I have to say, I was impressed right at unboxing, literally.
As I pulled the headphones from the box, I noticed that there is foam secured to the inside of the box itself, to aid in keeping the phones in place during shipping. Not many people do that. Add to that, in the void of the headband's packaging was a secure pocket where you will find the detachable gaming mic and splitter cable.
The feel of these cans is wonderful. A thick leather-feeling ear pad filled with memory foam provides ample comfort while allowing you to spend more time focusing on the things that matter: those boss battles.
My friends always give me a hard time for having a big head and big ears. As such, some items do not fit well. I was surprised when I donned the Corsair HS50 headphones, as it seemed like they were designed with people like me in mind. There was no adjusting required, I put the cans in place, and was ready to rock. There was no adjusting the headband, or fidgeting with the ear pads for an acceptable fit. They just worked. It's sad that I have to say this, but this is not always the case with such a product.
Corsair Style
The Corsair HS50 are heavier than some of the headphones I've had in the past, though not heavy enough for me to worry about it. They feel incredibly sturdy, and are anything but flashy. The appearance is a matte black, with subtle color accents of blue, green or carbon, depending on which platform you prefer. The choices of color are Blue for Playstation, Green for Xbox, or Carbon for PC. There is a color splash on the outside of each ear cup, as well as the cross stitching across the inside of the headband. I prefer the subtle color designs here, as opposed to the flashy neons and pastels some other companies have brought to the market.
Features
Corsair raises the standard again with some of the included features of the HS50. Rather than having a retractable microphone or an attached model that swivels out of the way, Corsair went with the detachable option. Having what may seem like minimal options such as this tend to show the difference between a cheap model, and something that has been well thought out. Not all gamers want or need a microphone, but almost every user prefers headphones now and again.
Speaking of the microphone, I have seen companies that have on/off buttons for your microphone placed either inline with the headphone cord, or an on desk trigger. Again, Corsair decided to go above and beyond by placing this button on the back side of the left ear pad. It's discreet, and out of the way if you don't need to make use of it. If you decide to use it, it is impossible to lose or be out of reach. The microphone is easily flexible and clear.
Personally, I have not encountered a gaming headphone with an attached volume control. Finding this on the ear pad of the HS50 was a pleasant surprise. You never know when you will come across a jolting increase in atmospheric sounds in a game, and this is an additional quick way to control it.
Corsair's HS50 model boasts a tuned 50mm audio driver. Now, I couldn't sit here and tell you what that means, in technical terms. What I can tell you, is that I have been listening to everything I can get my hands on since I got the HS50's. I have nothing but positive comments on the quality here. There is no distortion to my music, the in-game dialog is crisp. I would say they must have done their job well here.
Thoughts
I'm a bit of an audiophile, so I'm always on the look for headphones that will allow me to immerse myself in the world of choice. The Corsair HS50 presents with impressive quality, and some forward-thinking features. I could not find many things to complain about, and that is a good thing. Good sound, good feel.
The few things I would like to see in future revisions would be a removable cable and perhaps a carrying case or pouch. Headphones tend to be something that travel with us, and it would not be unreasonable to have a cloth pouch or molded shell to throw them in when traveling to and from LAN partys. The removable cable however could improve product life. If you're like me, it's not unlikely that you would snag your cord and drop the headphones to the floor. A removable cable could help deter these sorts of accidents. If these minor details are the only 'complaints' I have on these headphones, than we're really doing pretty good.
For more information, check out Corsair's website.
Explosive Sounds
Build - 91%
Sound - 85%
Features - 90%
Corsair's latest HS50 headphones are a steal at $50. The size, build quality and audio quality are outstanding for today's gamer. Don't get left behind, missing either the in-game commentary or the multiplayer conversations.