What if you want to get into the new (or classic) Star Wars movies, but you don't know anything about the franchise? Then you might need Star Wars Made Easy.
A complete galaxy
So here's an interesting idea for a book. Star Wars Made Easy is the latest Wars-themed tome from publisher DK. They've got quite a few of those, but this one is fairly unique. Star Wars Made Easy lays out the whole franchise, from start to (current) finish, including the animated series'. And I mean, lays it out.
It gets fairly deep too, into not only the Star Wars timeline (which is fairly easy to find), but also a load of questions that non-fans might have. The answers are complete, and delivered in straightforward form. There's no beating around the Bantha here.
Even as a longtime fan, I liked what I saw with this one, so let's dig in.
Ease of use
We'll talk about the bells and whistles in a second, but only one question is of the utmost importance here – is this thing was to use?! Thankfully, the answer is "yes".
Author Christian Blauvelt kicks the book off with a terrifically crafted Contents section. Each chapter is detailed here, titled by different Star Wars Episodes. So if you're interested in facts about Episode V, you can just scan across the page, scan down the list of questions and big moments from that movie, and then head to the page that will have your answers.
The listing for Episode V, by the way, reads a little something like this:
At a glance
A closer look
Planet Hoth: Rebel Base
What does Luke's vision mean?
Who is Lando Calrissian?
Battle of Hoth made simple
Darth Vader's big reveal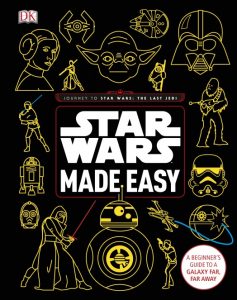 Yes, that's very simple. Remember though, that this book isn't targeted at those who know every in and out of the Star Wars universe. It's meant for people who are looking to get into it for the first time. Though, honestly, it's still pretty fun for an old fan.
I fell in love with Star Wars when I was a kid, like millions of others.
For me, it was The Empire Strikes Back that reeled me in, though I soon adored the other two films too. And after all that 1980s Star Wars hoopla died down, I re-started my fandom in the mid-90s with the Dark Horse Comics Expanded Universe, and the fresh round of action figures.
So I know a decent amount about the movies, comics, games, etc… But even so, I still really enjoyed my look at Star Wars Made Easy. True, it didn't tell me too many things that I didn't know already, but it was a lot of fun to leaf through this complete look at the mythos all the same.
One thing that I found a little odd though, was the order that Blauvelt decided to go in when recounting the story. Instead of doing it by chapter number (I through VIII), he handled it chronologically by release date.
In other words, the book starts off with Episode IV, goes through the rest of the original trilogy, then hits the prequels, before going into the new films. I assume that was to give readers the same flow that actual fans had, when viewing these films for the first time. And also if readers know some things from the prequels, it kind of spoils things later on.
I get it, but even so, I'd have preferred he went from the prequels into the original movies, then to the modern sequels. Intermixed of course, would have been the animated shows and Rogue One. Not a major thing, just my personal preference.
Art and layout
One thing I have zero issue with is the interior of this book. Star Wars Made Easy is packed full of great illustrations, flow charts, battle maps, original imagery from the films, and lots more. It's a big part of why the book world so well, as nothing here is drab or boring.
Each page has something exciting and interesting splashed across it, including some really nice double-page spreads. I really enjoyed the battle maps too. They show in detail all of the individual unit types and troopers in all the major Star Wars skirmishes. Not only that, they highlight key moments from the battles, showing where things turned one way or the other. Good stuff all around.
This is a hardcover book too, so it should make as some nice coffee table decor or addition to a bookshelf. And as usual with DK's stuff, the pages are of a beautiful weight, and glossy. Very nice to thumb through.
It looks great and there's just a ton of info here. Again too, though most of it is a known commodity for fans, Star Wars Made Easy is a treasure trove for newcomers to the franchise.
Star Wars Made Easy
Release date: September 1st, 2017
Format: Guide
Publisher: DK
Written by: Christian Blauvelt
The guide to the galaxy
Galactic presentation - 95%
Art and imagery that's no padawan - 91%
The story of Star Wars, plain and simple - 80%
Might be a little too simple for older fans - 71%
Star Wars Made Easy is exactly that. The book's high-quality presentation showcases a complete and easy to understand guide to one of the more complex universes in fiction. And it does all this with ease, and a straightforward nature. New fans won't get lost here. Old fans? While you might not get a ton out of this book, it's still shockingly fun to leaf through.