This might be the coolest thing to spin out of the Bioshock series of games pretty much ever. The toysmith's at ThreeZero have one monster two pack on the way for 2018.
Would you kindly check these out?
You know 'em, you've probably been scared to death of ticking one off at some point or another – they're the Big Daddies. As any Bioshock gamer knows, the Daddies protect Little Sisters, mutated kids bred to harvest genetic material called Adam. Together, they make a gruesome pair.
The Sisters are slaves to a system developed in the bowels of Rapture. But they don't have to remain that way, as players have the ability to free them during Bioshock's excellent campaign. And the Daddies? Their fate is arguably worse. Built to protect the Sisters, the Daddies are men who've been grafted into their specially designed armor. So, yeah. That's kind of it for them.
Together, they're a gruesome pair to be sure, but they're also quite tragic. And of course, pretty darn cool too. All of that looks to come across quite nicely in this monster-sized set from craft-toy-maker ThreeZero.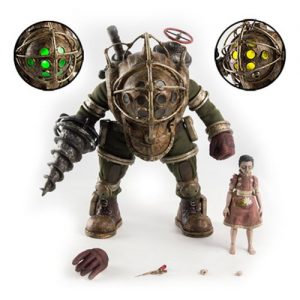 From ThreeZero and one of the most popular gaming series of the century, it's the Bioshock Big Daddy and Little Sister 1:6 Scale Figure 2-Pack! With swappable hands, light-up parts, and fabric costumes, this is the kind of gaming collectible that's sure to look awesome in any den, game room, or office. Bring a piece of Rapture home with the 12 1/2-inch tall – and similarly quite wide – hulking undersea beast of an action figure and his companion. Pre-order yours now!
While this is a pretty awesome set, it's most definitely not cheap. The Big Daddy and Little Sister 2-pack will run you $279.99 USD. Not that that's terrible really, since you're getting two figures here, and collector figures aren't exactly inexpensive. Watch for these to land at retail (including our friends at Entertainment Earth) this coming July.