We're a little late with this month's Coming Up (blame NYCC), but it's a packed month, so there's still more then enough to talk about.
My… precious
Last week, the 3DS saw the launch of Mario and Luigi: Superstar Saga + Bowser's Minions. That was just about it though, so we're still looking towards the bulk of what's coming out this month. Chief among those titles is Shadow of War, the next (and final?) game in the Middle-earth series.
If you're a Lord of the Rings fan of any stripe, then this is a game that you pretty much need to take a look at. Expanding and deepening the tale started in Shadow of Mordor, SoW also continues to push the Nemesis system to its limits. While I can't wait to dive into this one, it's not all that's Coming Up though. Not by a long shot.
Wolfenstein 2, The Evil Within 2, Super Mario Odyssey, Battle Chasers, WWE 2K18, and more are all seeing release. The PC finally gets its Destiny 2, and the Switch gets another NBA title. Yep, it's a big, big month. So let's dig into this month's Coming Up with the biggest releases for October, 2017.
10/10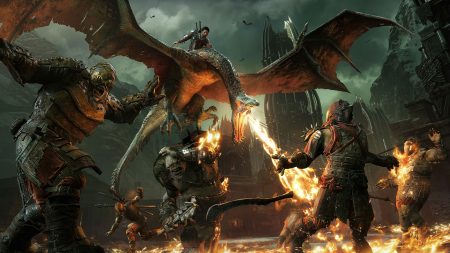 Middle-earth: Shadow of War – Xbox One, PS4, PC
Battle Chasers: Nightwar – Xbox One
Raiden V – PS4
Tiny Barbarians – Switch
10/13
The Evil Within 2 – Xbox One, PS4, PC
Friday the 13th: The Game – Xbox One, PS4
10/17
Rogue Trooper Redux Edition – Xbox One, PS4
South Park: The Fractured But Whole – PS4, Xbox One, PC
WWE 2K18 – Xbox One, PS4
Gran Turismo Sport – PS4
NBA 2K18 – Switch
10/20
Fire Emblem Warriors – Switch
10/24
Knights of Azure 2 – Switch
Just Dance 2018 – Switch, Xbox One
Monster Jam Crush It – Switch
Destiny 2 – PC
Singstar Celebration – PS4
10/27
Super Mario Odyssey – Switch
Wolfenstein 2: The New Colossus – Xbox One, PS4, PC
10/31
Azure Striker Gunvolt – Switch