Offensive Combat: Redux! is a casual competitive FPS with an emphasis on humor. The gameplay is fairly enjoyable with wacky shticks that range from odd weaponry to Trump costumes. Unfortunately, while there's a variety of weapons and costumes to pick from, there isn't much with maps and game modes. What you get is a Quake-like game with fewer maps and more memes.
Gameplay
Offensive Combat: Redux! is like any standard fun-oriented arena shooter.
You have a selection of nearly all weapons in the game that you can swap out when respawning. There are health, ammo and power-up pickups in maps which help prolong your current life and beat your opponents. In-game currency and XP is rewarded when killing and "PWN"-ing enemies.
A cool feature of this is how, even if you didn't kill someone, if no one picks up the coin they leave upon death, you can. XP is used for weapon upgrades while credits can be used to buy more costumes and gestures. There's also no pay-to-win only play-to-upgrade!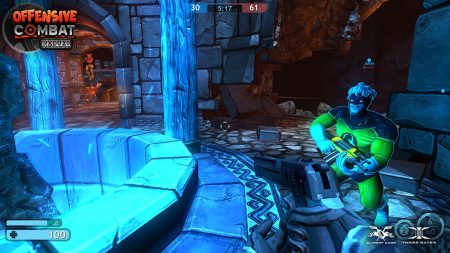 Game Modes And Maps
5 game modes are provided and there are only 6 maps (as of writing). Eventually you may get bored even though the maps are fairly well designed. You have Deathmatch, Team Deathmatch, Capture The Flag, Killer Robots and Exploration. For a game that appears to be off the walls I think it's lacking here.
The maps are somewhat thematically different from the intentions of the game too, and I wish there were more maps with crazier features.
Weapons
So there is quite a variety of weapons to choose from, all of which have upgrade trees, which encourages continuous play. There are sniper rifles, SMGs, assault rifles, shotguns, alien guns, melee weapons and grenades among other types.
Each weapon tree is also unique in that it rewards different play styles. I was impressed and amused that they chucked in some specific upgrades where taking "cockshots" will deal more damage. All these upgrades are purchased using XP too, which is important to keep in mind.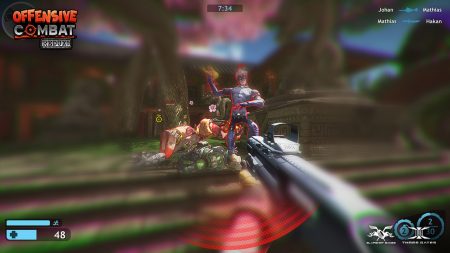 Costumes
A key appeal of the game is that you can wear wacky costumes like a hotdog suit or poop emoji mask and do insulting gestures ("PWNs") over your enemy's corpse.
You can customize your head, arms, hands, legs, feet, core etc. While cool, this is where I think the game could take some tips from Deep Silver's Saints Row. Saints Row is well-known, as a series, for its hilarious customization options. Specifically, I mean the taunts which could be "pwns".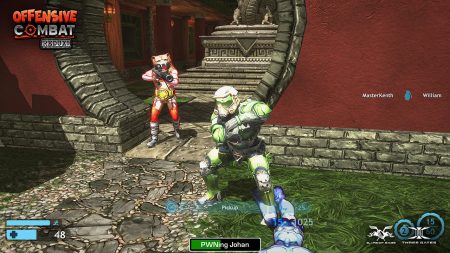 Most of the options aren't all that offensive or creative in this game, as opposed to the Row titles. They're more slapstick, which I assume is because the game was intended to be more PG than something like SR. There's a good amount of options that could be better, funnier and more meme-related. This goes for weapons as well.
User Interface
Plainly, the UI could use some work. Offensive Combat's UI looks like it was done using a starter menu tutorial in Unreal Engine 4.
Even though the looks are rough, they do the job and the main menu does some cool camera effects like going through a workshop where all your stuff is stored. You can also inspect and preview just about everything. Almost every button has a silly sound effect as well which may end up irritating people.
Networking
As of writing I am unsure about the stability of the servers. Here in South Africa, I've managed to play some long games but recently have been kicked for high ping (typical). Even so I never noticed lag – so props to that!
Overall verdict
Offensive Combat: Redux! is above-average. It has quite good arena gameplay with few hiccups. I dig the weapons, costumes and upgrades.
While I appreciate the emphasis on fun and good-natured humor it has though, I wish there was more to keep me playing. Perhaps there wasn't enough time or investment to give players more variety with even funnier effects or it's actually in the works. Either way, the game plays well and is definitely fun.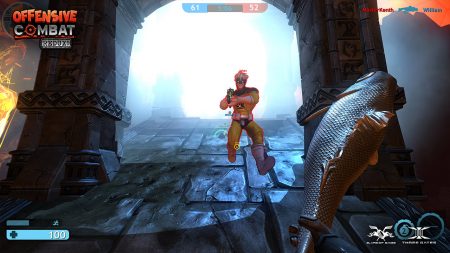 Offensive Combat
Release date: August 18th, 2017
Platform: PC
Publisher: SlapShot Games, LLC
Developer: ThreeGates AB
*FART NOISE*
Weapons - 80%
Maps - 40%
Humor - 65%
Gameplay - 75%
UI - 50%
Modes - 50%
Fun but lacking in maps. Good effort put into those that exist, the cosmetics and gameplay.