One of the best shooters on the Nintendo 64, Turok hasn't been seen much in recent years. So how does the original hold up?
Turok Tuesday, March 4th
Anyone remember Turok Tuesday? It was a marketing initiative from publisher Acclaim to basically build a little excitement around what was (at the time) a fresh IP. It was for a fresh system too, for Turok launched in 1997 and the N64 debuted only a year before.
Not that Turok was a new character by any means. The game series might have been original, but the character himself had been around since the '50s, and was a comic book staple. A year before the game appeared, he actually had a little renaissance too, thanks to Valiant Comics. Yes, that Valiant Comics.
Valiant had a fairly different universe in the 1990s, than what they publish today. A few big name indie heroes called the company home, who've since departed. Turok: Son of Stone is one of those.
Turok is a Native American, and protector of something called the Lost Land. That's -basically- a world that time forgot. It's pretty weird too, featuring a mix of tech and prehistoric creatures, not unlike something like Masters of the Universe or Dino Riders.
Turok: Dinosaur Hunter takes place in this fantastical world. Oh, and the title is kind of misleading too. Turok doesn't really hunt dinosaurs. The ones that you encounter in the game aren't prey, they're enemies, and are often flanked by the game's humanoid villains.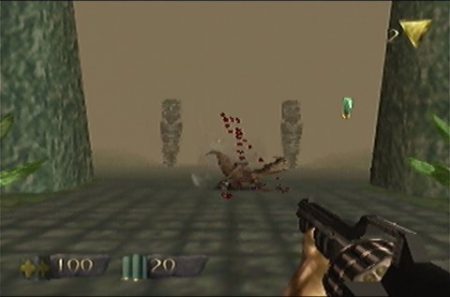 Lost land of the lost
The narrative isn't all that clear in Turok. That's probably because this is an N64 game, and cut scenes and the like weren't super commonplace on its carts. It does tell a story though, and it's a fairly simple one.
More or less, there's an evil overlord named the Campaigner (clever, I know). This big bad is out for one thing, an item called the Chronoscepter. From the name, you can probably derive its use.
The weapon is so immensely powerful that it can carve up time itself, and old Campy wants to do just that. The catch is that the Chronoscepter was broken into pieces long ago, and Turok and he are in a race to find all of them. Turok, of course, is trying to collect the pieces to stop the evil scheme.
Not overly complex by any means, but it works.
Innovative gameplay, that would become staple
What was the N64's biggest innovation? No- the analog stick (unless you guessed that, in which case- YES). Turok made grand use of that in movement, and it was a new sensation for console gamers.
Future FPS titles on the N64 would make ample use of this control scheme, but it was new at the time of Turok and man did it work well. Not that it didn't take some getting used to, but as a PC gamer who loved the idea of playing his fave genre (FPS) on the big TV screen? I was in love with how developer Iguana made use of that controller.
Today it might be old hat, but theN64 controls still work wonderfully, and Turok is still a joy to play through.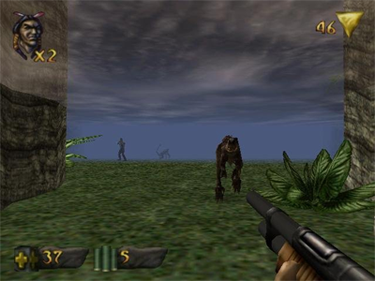 Excellent graphics, iffy sound
Let me say this right away – Turok looked awesome in the mid-90s. And you know what? It still looks pretty good today. There's something about the graphics for this game (and Turok 2 really) that didn't age poorly. And I get that it might not look great in still images, but it does have charm while you're playing.
So many other more complex 1990s FPS' suffered heavily from the passage of time, but Turok still manages to look solid. Must be the Chronoscepter.
The sound on the other hand, not so much. The music is iffy at best, and the voice (yes, there is some) is lousy. I also find that the audio seems to almost overload at times, phasing out a bit once in a while. It's hard to describe.
Effects are just fine however. The guns and assorted weaponry that Turok can wield (bow and arrows!) all sound terrific -and again- look really great.
All of the above combines to make this an N64 shooter that I can actually still recommend new fans check out. There's something special about this game, and the way that everything comes together, that make it memorable, and very much an N64 classic.
Turok: Dinosaur Hunter
Original release date: March 4th, 1997 (Turok Tuesday!)
Original platform: N64 (now available on PC and Xbox 360)
Publisher: Acclaim
Developer: Iguana
I AM TUROK
Prehistoric graphics that still have bite - 86%
Jurassic sound that... sounds Jurassic - 60%
Simple but solid controls that feel like they could be from the modern era - 85%
Turok: Dinosaur Hunter is still a great game today, just like it was in 1997 on the N64. Granted, it's not as impressive technically, but the Acclaim-published, Valiant Comics adaptation still somehow manages to look good and play brilliantly. It's not all that deep, but I can't imagine those looking for a fun and unique action romp wouldn't dig it just fine.