For PC Gamers, Speed is always on the watchlist. Enter Corsair feeds your need for speed with their latest: VENGEANCE LPX 16GB 4,600MHz.
Corsair Vengeance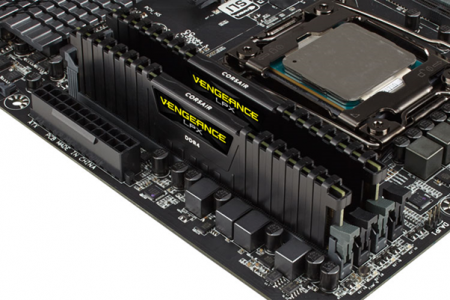 Today Corsair announced its fastest ever kit of DDR4 memory, VENGEANCE LPX 16GB (2x8GB) 4,600MHz. Co-developed with ASRock's X299 OC Formula motherboard, the Vengeance LPX is capable of achieving 4,600MHz with just a single setting.
High-speed memory doesn't stop at 16GB and CORSAIR also leads the way when it comes to high-speed DDR4 at a wide range of capacities. With more Intel XMP certified kits than every other DRAM manufacturer combined, you'll find record setting kits available. Kits of VENGEANCE LPX at 32GB (4x8GB) 4,133MHz, 64GB (8x8GB) at 4,200MHz, 32GB (2x16GB) at 4,000MHz and for those who need the maximum in speed and capacity, 128GB (8x16GB) at 3,800MHz.
For more information, visit Corsair.