Monster Hunter stories arrives in this week's Nintendo Download for the Switch. It's joined by the likes of Rayman Legends… and Double Dragon.
Dragons are technically monsters right?
Yes, it's Monster Hunter week 3DS fans. The game series finally makes its way back to the Nintendo handheld with a new title that looks like it should make gamers pretty happy. And if you're unsure about it, you could always grab the demo first. It's also available today.
Rayman Legends also hits this coming Tuesday for the Switch, and I can attest to the fact that it both looks and plays great. There's a lengthy demo up on the eShop for that one, and I've had the chance to play quite a bit of it. It's good stuff.
In addition to the above, Double Dragon IV lands this week too… to zero fanfare. I honestly don't know why, since the game looks like a nice tribute to the former glory of the series. It's got the 8bit looks and everything- and it picks up after DDII. I loved the NES days of DD, so I know I'm in for this.
Looking for something else? Check out the full listing below (spoiler: There's a NEO GEO game).
Nintendo eShop on Nintendo 3DS
Monster Hunter Stories – When a monster strikes, the fearful hide. But the brave? They ride. Venture into monster nests to collect eggs and hatch a wide array of species with uniquely powerful skills. Form teams, battle alongside them, crush opponents with combo attacks and ride into the sunset a champion. Need more muscle? Then mix and match genes to create monsters with more abilities. The Monster Hunter Storiesgame will be available on

Sept. 8

. A demo version of the game is available for download now in Nintendo eShop.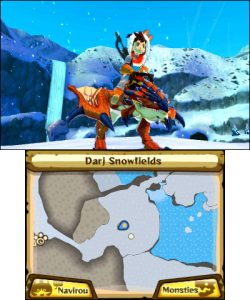 Nintendo eShop on Nintendo Switch
Rayman Legends: Definitive Edition – Rayman, Globox and the Teensies are off wandering through an enchanted forest when they discover a mysterious tent filled with a series of captivating paintings. As they look more closely, they notice each painting seems to tell the story of a mythical world. In this platforming classic, the gang must run, jump and fight their way through each world to save the day. The Rayman Legends Definitive Edition game will be available on

Sept. 12

.
Nintendo eShop sales:
Nintendo eShop on Wii U and Nintendo 3DS
Activities:
My Nintendo Rewards – Celebrate the return of Samus with these themed Metroid rewards. Redeem points to get up to 50 percent off on select Metroid titles, including the original Game Boy classic Metroid II – Return of Samus game on the Virtual Console service on Nintendo 3DS, before you experience the new, reimagined Metroid: Samus Returns game for the Nintendo 3DS family of systems.

You can purchase the digital version of the Metroid: Samus Returns game on Nintendo eShop or Game Store on Nintendo.com, and redeem your Gold Points for the Metroid: Samus Returns Nintendo 3DS Home Theme (Nintendo 3DS).
You can also redeem your My Nintendo points for these new custom wallpapers for your computer or compatible mobile device:
Also new this week: