If you're a Street Fighter fan, then you're probably going to want at least one of these.
Fight! …for some wall space.
Udon is widely known as one of the greatest publishers of Street Fighter comics around. I'm pretty sure they've put together more art books and comics for the Capcom property than any other company… ever. Not that that's a long list, but you get the picture.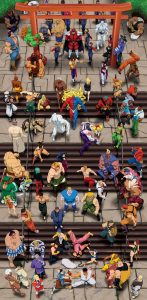 Basically, they know what they're doing. And that's reflected once again in the first two offerings in their new Street Fighter line of wall prints. What's the difference between a wall print and a poster? Actually, a decent bit.
These new prints are made with "durable, latex-saturated paper". From that, it sounds like they're not as flimsy as your standard poster. Hence the fancy name. And, featuring the artistic talents of Street Fighter artist du jour Jeffrey "Chamba" Cruz, they're pretty freaking awesome looking too.
Street Fighter Ultra Jam is the first poster on the short list, and it is packed. Loaded with over 80 World Warriors from the series' history, this one is a monster 24×50 inches big. As Udon points out – that's over four feet long. It might look a little familiar to you too, as the print was original a series of interconnected covers from Udon's Street Fighter comic book run.
The second art print clocks in at a more manageable 27×40″, and should be instantly recognizable to pretty much any video-gamer. A straight up riff on the "classic" Street Fighter movie poster, this piece replaces the likes of Van-Damme and Raul Julia with the character art from the aforementioned comic. And wow does it look awesome.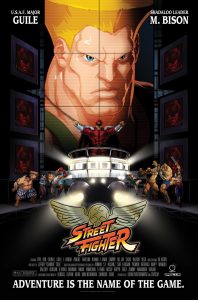 As cool as the giant Ultra Jam is, I think I'd have to go with this one if I was grabbing one for my own game room. Too cool.
Both prints are available right now on the Focus Attack webstore, check them out here.