Lots of cool stuff in stores this week from Diamond Select Toys, including the last series of the Ghostbusters figures. Maybe.
Anybody see a ghost?
As far as I know, this is it for DST's Ghostbusters Select line of action figures. Each figure was packed in with a piece of the original film's rooftop battle scene. Now all of this are out and ready to be added to your collection. I didn't see any more of them on hand at Toy Fair this past February, so I'm assuming that's it.
Not that it has to be of course. Ghostbusters is a property that has pretty phenomenal expandability, and there are plenty more characters and ghosts that could be made. So we might not be seeing the last of the boys in gray. For now though, this is the fifth and final wave.
So if you've been buying them to now, you're going to want the Terror Dog, cab driving zombie, and library ghost. Not that those figures are all that's out this week. There's a ton more from a load of properties.
A Diamond Select Toys Release! You've met the Mad Hatter, now meet him again! This 7-inch, Previews-exclusive variant figure of the Mad Hatter, based on his appearance in Alice Through the Looking Glass, sports the red coat of the present day, rather than the green coat of his younger days. The figure features the likeness of Johnny Depp, has 16 points of articulation, and comes with a diorama background depicting a building from Wonderland – connect the base to the bases of the other two Alice figures to build a larger town! Figure comes packaged in display-ready Select packaging, with spine artwork for shelf reference. Sculpted by Gentle Giant Studios! (Item #JAN172654, SRP: $24.99)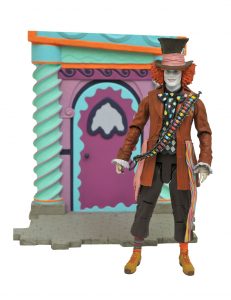 A Diamond Select Toys release! Is it hot? No, it's ice cold! DST has upgraded their bestselling electronic

1:15

scale Time Machine from Back to the Future with the additions shown in Batck to the Future 2! Having just arrived in our time from 2015, this Version 2 Time Machine has adjustable hover wheels, the iconic Mr. Fusion fuel device, and a thin coating of "frost" over its entire surface, to replicate the effects of time travel. Vehicle measures approximately 14 inches long with opening gull-wing doors, and time-travel lights and sounds are triggered at the push of a button. Packaged in a full-color window box. (Item # DEC162558, SRP: $59.99)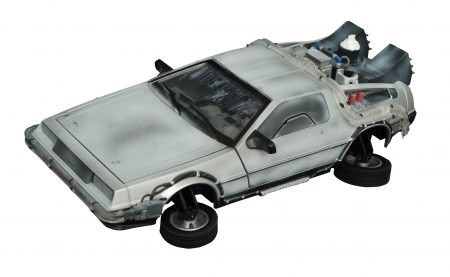 Batman Classic TV Series Catwoman Season 3 Bust

A Diamond Select Toys Release! This tiger has changed its stripes! Like many of Batman's classic foes from the 1960s TV series, Catwoman underwent several metamorphoses over the run of the show, and in Season 3, she was played by sultry singer Eartha Kitt! This 6-inch-tall resin bust depicts Kitt as Catwoman, perched atop a colorful base inspired by the show's animated opening credits. It's the purr-fect addition to your Batman Classic TV Series bust collection! Packaged in a full-color box with a certificate of authenticity. Designed by Barry Bradfield! Sculpted by Jean St. Jean! (Item # DEC162560, SRP: $59.99)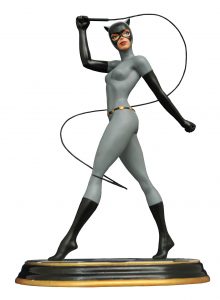 Batman Classic TV Series Bookworm Resin Bust

A Diamond Select Toys Release! Batman can defeat any foe, but can he stand up to the power of reading? Bookish Bat-foe Bookworm is the newest character in DST's line of resin busts based on the Batman Classic TV Series! Depicting the villain as he was played by Roddy McDowall, this bust measures approximately 6 inches tall atop a pedestal inspired by the show's animated opening sequence. Limited to only 3,00 pieces, it comes packaged in a full-color box with a certificate of authenticity. Sculpted by Jean St. Jean! (Item #JAN172651, SRP: $59.99)
A Diamond Select Toys Release! Now this is a statue worth stealing! Continuing DST's Premier Collection line of statues, this resin sculpture captures Catwoman as she appeared in Batman: The Animated Series, where she straddled the line between good and bad! Catwoman wears her classic grey catsuit, and wields a whip that wraps enticingly around her lithe form. Measuring approximately 12″ tall on her tiled base, this statue is limited to just 3,000 pieces, and comes packaged with a certificate of authenticity in a full-color box. Sculpted by Clayburn Moore! (Item #JAN172650, SRP: $150.00)
A Diamond Select Toys Release! The Joker makes a triumphant return to the DC Gallery line! Based on the famous Batman: The Animated Series episode "The Laughing Fish," this rendition of the Joker shows him holding the titular marine life, with one foot on a chained and partially submerged Batman! This approximately 9-inch figure is in scale to all DC Gallery and Femme Fatales PVC dioramas, is sculpted with a high level of detail and features exacting paint applications. Diorama comes packaged in a full-color window box. Sculpted by Sam Greenwell! (Item #JAN172652, SRP: $45.00)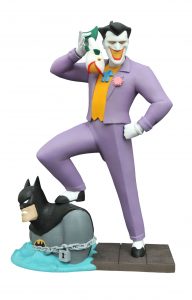 A Diamond Select Toys Release! Anybody seen any ghosts? The hit toy line based on the horror-comedy classic movie Ghostbusters is back with a fifth series of action figures, and this series is spectrally delicious! Series 5 unleashes three spirits from the original 1984 movie: the Library Ghost, the Taxi Driver Zombie and a Terror Dog! Each 7-inch scale figure features up to 16 points of articulation, as well as character-specific accessories: the Library Ghost comes with a stack of books, the Taxi Driver comes with a steering wheel and the Terror Dog comes with interchangeable horns so it can be either Zuul or Vinz Clortho! Plus, each figure comes with a piece of the rooftop diorama – these are the last three figures you need to complete the whole shebang! Packaged in the trademark Select display packaging, with side panel artwork for shelf reference. Sculpted by Gentle Giant Studios!(Item #NOV162416, SRP: $24.99/ea.)
A Diamond Select Toys Release! You don't need the wisdom of Solomon to know that this bust is a must-buy! Based on his appearance in the Justice League Unlimited TV series, this approximately 6-inch bust of Shazam is the latest release in the animated-style resin bust line by DST. Featuring detailed sculpting and paint applications, Billy Batson's alter ego is posed atop a pedestal styled after the Justice League's Watchtower satellite. This bust is limited to only 3,000 pieces and comes packaged in a full-color box with a certificate of authenticity. Sculpted by Varner Studios! (Item #JAN172653, SRP: $59.99)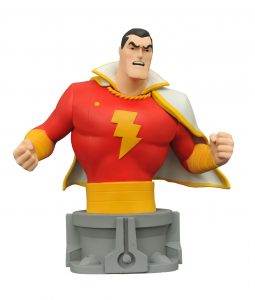 A Diamond Select Toys Release! The Marvel Gallery line of dioramas continues with one of the Marvel Universe's greatest heroes: Iron Man! Wearing his classic red-and-gold armor, Iron Man hovers above the ground using his boot-jets, and is ready to join his fellow Avengers in the popular PVC line. Measuring approximately 11 inches tall, this diorama featured detailed sculpting and paint applications, and comes packaged in a full-color window box. Sculpted by Mat Brouillard! (Item #JAN172648, SRP: $45.00)