Two Deadpool's are already on the way, but why not one more? Wade in his X-Men uniform is set for release this Summer.
X-Pool
Look, Deadpool is ridiculously popular. He's approaching '90s Wolverine' levels of saturation, so it's no surprise that Mezco Toyz would pick him as one of their Summer exclusives. And yes, I say that even though we're already getting standard and X-Force flavors (a Previews exclusive) of the Merc with a Mouth.
Not that I particularly dig the X-Men version of his classic costume. Cause, you know, it's a little garish. Just a smidge. Still though, if you're a DP fan, then you're probably gonna eat this up like a plate full of chimichangas.
X-Pool here will only be available at Mezco's booth at SDCC next month (#3445), and through their web-store. And -of course- only while supplies last. Knowing Deadpool fans, that won't be long.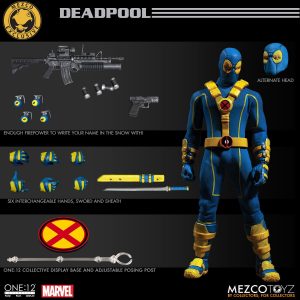 Here's what'll be in the box:
The X-Men Deadpool  One:12 Collective Summer Exclusive figure features:
•  Two head portraits
•  One:12 Collective body with  over 30 points of articulation
•  Hand painted authentic detailing
•  Over 16cm tall
•  Eight (8) interchangeable hands including
– One (1) pair of fists (L & R)
– One (1) pair of gun-holding hands (L & R)
– One (1) pair of sword-holding hands (L & R)
– One (1) grenade holding hand (R)
– One (1) shaka / "hang loose" hand (L)
Costume:
Sculpted gloves on each hand
Vambrace on each forearm
Harness with sculpted pouches
Sculpted boots
Accessories:
• One (1) machine gun with removable ammo clip and opening grenade chamber
·  Four (4) 40mm style grenades (fit in the grenade launcher chamber)
•  Four  (4) throwing grenades
•  One (1) katana with sheath
•  One (1) handgun with removable clip
•  One (1) One:12 Collective display base with logo
•  One (1) One:12 Collective adjustable display post
Each One:12 Collective X-Men Deadpool  figure is packaged in a deluxe, collector friendly box, designed with collectors in mind, there are no twist ties for easy in and out of package display.
This Summer Exclusive The One:12 Collective X-Men Deadpool
is only available through the Mezco Toyz website
http://www.mezcotoyz.com/x-men-deadpool
or the Mezco Toyz SDCC booth # 3445
Expected to ship: July-September 2017