We thought we had a handle on who were good guys and who were the bad guys. Then they rolled the dice again. Let's see what happens next in Dead Inside #5.
For those of you who may have missed our previous coverage, we have #1 & #2, #3,#4
and a brief interview with the author John Arcudi.
Dead Inside #5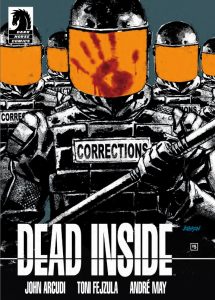 The last issue ended with the detectives investigating the prison again, guards shirking their responsibilities, and a police officer getting shot by an inmate. The officer that noticed a minute detail in a prison wall grate, with a little piece of tape out of place. Now he finds himself on his knees in a very dangerous situation.
The inmates are boarding up windows, and realizing they have a hostage situation they can take advantage of. Detective Caruso finds herself in the office of Leo Aaron, wondering if she ever really knew the man. It dawns on Caruso that what she is investigating is a frame job. When she gets to the warden, however,  she learns that they are already figuring this out.
Disgruntled Armaments
The warden and the local officers are arguing over why things went down as they have. The warden should have put the prison on lockdown. There should have been inter-department cooperation. As this was not the case, an officer has been shot, and is now being held hostage. Due to the hostage situation, the warden will not send a doctor to tend to the injured officer.
Unpopular Proposal
Detective Caruso came between the warden and the deputies and negotiated a deal. The deal is this: Caruso and the prison doctor will go in, the injured deputy can be treated, and Caruso will stay behind as a hostage. The inmates should be happy with the additional hostage, and the injured man gets the attention he badly needs.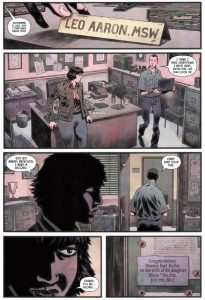 Now nobody believes things will go over that smoothly, but it's what needs to happen to move the situation forward. The inmates harass Caruso at every opportunity. They even go so far to insist that they inspect the doctor's supplies before he can tend to the officer.
Caruso has figured out a good piece of the plan. Sten was behind a lot of what was going on here, even providing hardware to give certain individuals an unfair advantage. Several others may have known, and died for what they knew. But it didn't matter now. She was putting the puzzle together.
She's on the inside. There's a gun pointed at her head, and the inmates won't allow her and the doctor to treat the officer how they need to. So they improvise. Though the inmates don't appreciate that either. But then, who would be a fan of a pen-tracheotomy?
Dastardly Detective
Caruso catches the inmate off-guard, shoves the pen in his eye, and is able to get the gun back in the hands of the right side. Before the next inmate has a chance to act, he has a freshly-sewn orifice in the top quarter of his head. How's that for accuracy and timing? Not only is Detective Caruso on the case, she just put a room full of inmates in their place.
She goes to bring flowers to her injured officer buddy, and they trash talk each other just like nothing's happened. She is met by some uniforms on her way out, bringing her good news. Her lieutenant and the warden have been discussing Caruso's handling of the case. Internal Affairs has no quarrel with her actions. Things are looking on the up-and-up. They want to give Caruso her old job back. Too bad for them, she withdrew her request to get that previous position back.
Dead Inside #5
Writer: John Arcudi
Artist: Toni Fejzula
Colorist: Andre May
Cover Artist: Dave Johnson
Mislead
Plot - 91%
Writing - 87%
Art - 75%
Arcudi's twists and turns in Dead Inside are enjoyable. Watching Detective Caruso work out the who and where was a head scratcher at times. Be sure to pick up Dead Inside if you want a good murder mystery.