The impressive One:12 Collection rolls on, with yet another Marvel Comics heavy hitter. The X-Man known as Wolverine is now available for pre-order.
The best at what he does
It's no secret that I'm pretty darn bowled over by the One:12 Collection from Mezco Toyz. I recently had the pleasure of reviewing the company's Daredevil figure, which is a stunner, and have a movie Superman revvy in the offing. It's a great line, for fans of either one of the big two's characters.
As of right now though, I believe Wolverine was the sole entry in the line as goes Marvel's mutant faction. I would expect that to change, especially since the X-Men are facing a major resurgence with the publisher, but for now Logan is it. Good thing he looks pretty freaking awesome in his brown and tan suit.
It looks like Mezco listened to fans as well, on the design. If you remember, Wolvie was unveiled last year, and fans weren't thrilled with the long shorts on him. As you can see in the pic here though, that's changed… a little. It seems like the company really likes the alteration on the iconic suit that they've crafted, but nonetheless they're a tad shorter than they were before.
I didn't really have an issue with the original design, but I do have to admit that this is a fair sight better. As for the rest of the figure though, it's pure X-Gene gold. The two portraits looks terrific (though I would have liked a Logan head as well), and the Muramasa blade is a sweet little addition. Good stuff overall.
Wolverine is available now for pre-orders and is set to arrive late this coming Summer. He'll cost you $80 USD. Full details are below.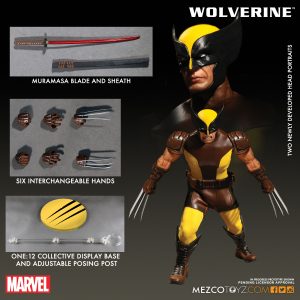 The Wolverine One:12 Collective figure features:
A newly developed One:12 Collective body accurately depicting the characters physical build.
Two (2) newly developed head portraits.
Over 30 points of articulation
Hand painted authentic detailing
Over 15cm tall
Six (6) interchangeable hands including
One (1) pair of clawed fists (L & R)
One (1) sword holding hand (R)
One (1) fist (L)
One (1) pair of holding hands (L & R)
Costume:
Sculpted gloves on each hand
Vambrace on each forearm
Shoulder pads
Belt with sculpted pouches
Sculpted boots
 Accessories:
One (1) Muramasa blade katana
One (1) One:12 Collective display base with logo
One (1) One:12 Collective adjustable display post
Each One:12 Collective Wolverine figure is packaged in a deluxe, collector friendly box, designed with collectors in mind there are no twist ties for easy in and out of package display.
Expected to ship: ???-??? 2017
Follow Mezco Toyz on Facebook at
https://www.facebook.com/MezcoToyz/
and subscribe to our newsletter at
http://eepurl.com/cl1jmL