Introducing CORSAIR ONE, the first fully built gaming PC from CORSAIR.
CORSAIR ONE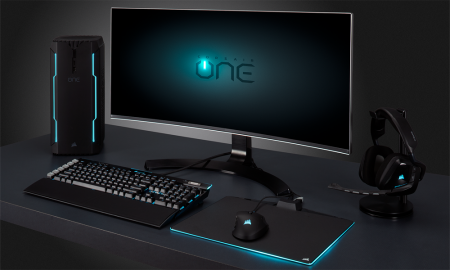 Designed to deliver premium PC performance in an incredibly small package, CORSAIR ONE brings together decades of CORSAIR memory, cooling, power supply, and chassis engineering with the latest in cutting edge PC hardware to create a PC unlike anything else available.
Powered by the latest 7th Generation Intel® Core™ Processors, the Intel® 200 Series chipset and an NVIDIA® GeForce® GTX 1080 or GTX 1070 graphics card. CORSAIR ONE wields the performance of a top-end full-size PC, contained in a system that's small enough to fit into any desktop, living room or VR setup. Quiet, compact, and with the performance of full-size desktop PC, this is the ONE.
Next Generation PC
CORSAIR ONE comes ready to deliver fantastic PC, 3D and VR experiences thanks to a liquid-cooled Intel Core i7 7700 CPU and air-cooled GeForce GTX 1070 8GB, while CORSAIR ONE PRO takes performance to the next level with dual liquid-cooling for both an Intel Core i7 7700K and GeForce GTX 1080 8GB. The rest of CORSAIR ONE's internals are a list of must-haves for a modern PC: fast SSD storage in either 240GB, 480GB or 960GB options, roomy 1TB or 2TB HDD, an 80PLUS Gold SFX PSU, Z270 motherboard with USB 3.1 type C and 16GB of trusted CORSAIR VENGEANCE LPX 2,400MHz DDR4.
What's more, CORSAIR ONE uses only industry standard sized components, so when it's time to upgrade through CORSAIR's network of certified upgrade centers, it's easy to keep your CORSAIR ONE cutting edge.
Featuring the best from CORSAIR, INTEL, NVIDIA, Microsoft and more, CORSAIR ONE is the desktop PC that's been more than 20 years in the making. Whether you use your PC to battle, explore or create, this is the ONE.
Built around Intel i7 architecture, there are several models available, beginning at $1,800 for the enthusiast gamer.