The newest buddy game for 2017 will be here in March. From developer, Spiral House, comes the Troll and I, a game published by Maximum Games. The Troll and I is about an unlikely duo, Otto and Troll.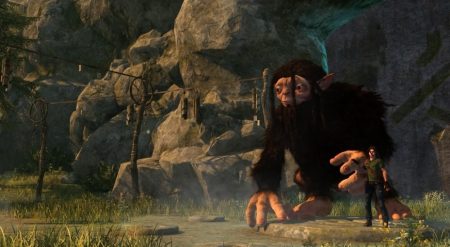 Meet Otto
Meet Otto, he is a little weird. He lives with his family out in the woods. They all decided to reconnect with nature. Who can blame them? World War II has just ended and it is time for a fresh start. So now Otto and his family want to live in harmony with nature. Just as Otto is becoming acquainted with the forest, he can never escape human nature.
There are more to these woods than meets the eye. It seems this forest is a little magical. Though the locals warn Otto not to venture into the forest, what does a teenage boy do when he is told not to do something? Well of course Otto ventures out into the woods. Along his journey, Otto starts to experience just what makes this forest so magical. After Otto's village is attacked by crazy troll hunters, he takes off into the forest. While in the forest, Otto runs into some unexpected monsters. Just when it seems Otto is going to perish, a big hairy troll comes to save the day.
Meet Troll
He is big. He is tall. He has bad breath and some interesting dreads. He is a troll from before the age of the Internet. This is a mythical troll and while he lives in a cave, he also loves to experience the outdoors. Troll is not scary. Troll wants to help. Troll likes to help Otto.  Troll and Otto must not die because Troll has something he needs to show Otto. But Troll and Otto must hurry, because someone is hunting Troll and Otto.
Got To Make That Money
There is a folktale that a mythical troll lives deep in the Nordic forests. In this post-world war era, it is tough to make ends meet. When a millionaire offers three million dollars for the head of said troll, players can understand what all the hubbub is about. Troll hunters come swarming to these quiet woods in search of this giant score. Join Troll and Otto in their adventure as they try to stay alive in a dangerous environment. What did the hunters have to do with all these forest monsters? Has Troll been protecting the locals as these years? Find out in Troll and I, set for release on March 21, 2017 on PC, Playstation 4 and Xbox One.