It looks like there will be a physical, retail release for Halo Wars 2. And -and this is kind of weird- it'll be THQ Nordic that does it.
The Ultimate edition of Halo Wars 2
There will be a vanilla edition of Halo Wars 2 out there for the PC. Thing is though, I don't know who's going to want it, because the Ultimate Edition is pretty, well, ultimate. It actually just might be the best edition of Halo Wars 2 for fans to pick up, period.
First off, the new Halo Wars game getting two boxed PC releases is news all by itself. I mean, that's weird enough in this day and age. And second, both are going to be published not by Microsoft, but by THQ Nordic. That's oddball too! But then on top of all that, the Ultimate Edition is gonna be a pretty freaking nice offering. In fact, it just might be the best version of the game out there. And I mean that for PC and Xbox One gamers.
THQ Nordic promises "high-quality packaging" for the launch. And while I have no idea what the means, the company is packing in extras that you're gonna like. If you pick up this version, you'll get the base game and the Season Pass for HW2. You'll also get a four day jump on playing it over everyone else.
Oh, and then there's the fact that you'll actually be getting a revamped version of the original Halo Wars packed right in. Yep, Halo Wars Definitive Edition is included. And you'll be able to play both games on the PC or the Xbox One (via digital download). That's thanks to a double dose of Microsoft's Play Anywhere gimmick. So you're basically getting four games. Very nice.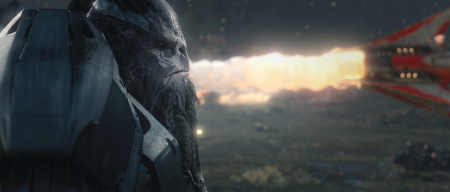 A working relationship
"After working on so many titles together with Microsoft in 2016, we are stoked to start the year with another partnership. Being able to deliver such a big franchise to RTS and Halo fans alike, the opportunity to buy and own this game in a beautiful physical shape is something we appreciate a lot." – Lars Wingefors, founder & Group CEO of THQ Nordic

"For fans who love to own the box, we're excited to partner with THQ Nordic and bring Halo Wars 2 to physical release on Windows 10," stated 343 Industries Studio Head of Strategy Games Development Dan Ayoub. "THQ Nordic has been great to work with and we look forward to the game's release on Feb. 21, 2017."
And I look forward to many more boxed PC games in the future. Yes, yes, I know that's not gonna happen on any grand scale. But I like retail releases a ton, so just let me dream for the moment. Scroll down for the full specs on both editions of the PC version of Halo Wars 2.
Halo Wars 2 Standard Edition
Release: February 21, 2017
RRP: 59,99 EUR/USD
You will get:
Halo Wars 2 for Windows 10 and Xbox One via Xbox Play Anywhere*
Halo Wars 2 Ultimate Edition
Release: February 17, 2017
RRP: 79,99 EUR/USD
You will get:
Halo Wars 2 for Windows 10 and Xbox One via Xbox Play Anywhere four days before the official release*
Halo Wars Definitive Edition**, an enhanced version of the original Halo Wars that runs natively on Xbox One and Windows 10 PC, featuring improved graphics, additional Achievements and includes all of the DLC created for the classic real-time strategy game.
This physical version of Halo Wars 2 for Windows 10 requires a one-time, non-transferrable online activation at install with digital token
The exclusive Season Pass***