The follow up to Hyrule Historia, The Legend of Zelda: Art & Artifacts will indeed have a pretty nifty limited edition.
Limited Art… and Artifacts!
Pretty cool cover, no? And if you have seen the aforementioned Hyrule Historia, then you already know the probable quality of the contents for this sequel volume. We're actually cooking up a review of the book, which hits at the end of next month. Even so though, this is the first that we've seen of the Limited Edition, and it's flat-out gorgeous looking.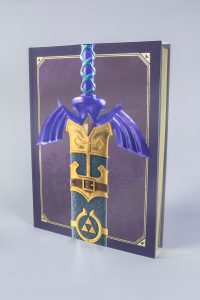 The cover is embossed, featuring a "3D" embossed, sheathed Master Sword. And of course, it's deco'd in metallic colors as well. Why only the top of the blade? Because Dark Horse wanted to give fans a life-sized (lot of that going around today) look at Link's weapon of choice. As for the cover's backdrop, do you see the misty treelike? That's the Lost Woods. And yes, that is awesome.
Here are the full details on it, straight from the publisher:
Fans who purchase The Legend of Zelda: Art & Artifacts limited edition will experience the thrill of finding and unsheathing the Master Sword! The cover features a 3D embossed sword hilt sculpt with a metallic foil finish. The sword hilt is life size to give the reader the satisfaction of unsheathing the very realistic sword from the acetate sleeve that encases the book. The cover's background features the Lost Woods (a maze of mystifying forests that has appeared throughout the franchise) in a custom-mixed deep purple ink with a soft-touch lamination and spot-gloss UV, framed with metallic foil. The book's pages are gilded as well.
Regardless of which cover you end up picking up, you'll get the same content. Over 400 pages of art, interviews, and promo work is the true star of this show. And if you're a Zelda fan, then there's plenty there to temp.
The Limited Edition of The Legend of Zelda: Art and Artifacts is available right now for pre-order from stores like Amazon, Penguin Random House, and Things From Another World. It'll run you $79.99 USD. Expect it on February 21st.