Simple puzzle games are getting more and more common nowadays. Classic games like "Unblock Me" and "Flow" keep me hunting for new and exciting puzzle games because by now those games set the standard for your average mobile puzzle game.
Level: A Simple Puzzle Game (only on the App Store) is no exception to that list. It's simplistic mechanics and its ease-of-use makes it the perfect game to pick up and play for a when there's a long line at that taco truck and you really want that taco, well at least so I thought.
Not your average puzzle game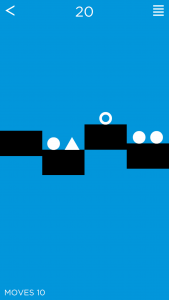 Level is a game where the player has to "level" multiple platforms together. It starts off with two platforms and two white whole circles. To level, the platforms move one circle to the other platform and leave the other circle where it was at. Therefore one circle is equal to one circle. Easy right, sure, at first but then it starts adding new shapes to each puzzle as you go through the ever increasing levels. It gets pretty difficult, it makes the player stop and think before carelessly moving a shape. So far the total amount of levels in the game are 80 and more is to be added in the future, Starch the makers of this game says.
There are shapes and there are platforms. Each piece has a purpose and nothing is ever left out in each puzzle. The pieces consist of a circle, triangle, and a square then they have their counterparts. The hollow versions of those white shapes. The whole shapes way down the platform and the hollow shapes raise up the platform. Black shapes are also hollow or whole, too, but can't be moved. This provides a huge assortment of patterns and ways that each level can be solved which is one of the reasons it makes this game pretty difficult.
The platforms are another key part of this "simple" game. There is a total of six different platforms represented by a symbol or a line connecting the platforms. A lock on a platform means it can't be moved. Chains between two platforms mean one side needs to be weighed down to break the chains apart to turn them into their natural state. A platform might be broken in half and there are two magnets facing each other, once the two platforms are leveled they make a single platform. Some Connect using gears. When one goes up the other goes down. There is also a solid line connecting two platforms. They move together when a shape is moving it up or down. Finally, there is a key facing one direction, pointing to a lock. Level them and,Presto, they're normal again.
Ads suck but they might need them!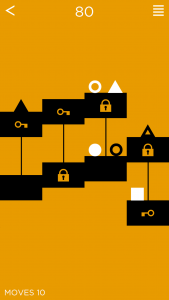 The player has only a certain amount of moves before they lose a life, which there's only five of. Once the lies run out there is a micro transaction to buy more lives or more moves. This is where the game kinda started getting irritating for me. I love how easy it is to pick up and play but if I'm struggling on level 35 and it takes all my lives because I couldn't solve it, there is no way to continue playing unless I wait 20 minutes for a life to come back or pay for a complete set of five lives. There's no way to watch an ad to get a free life back which is kind of a downer. It's great that they have no ads (it keeps the game looking clean) but what if I'm waiting for a train and it's taking a long time. I run out of lives but I want to keep playing but I have to pay. I'd rather play a different game then wait for my life to come back, there aren't even any hints to help if you're stuck and your just wasting lives. It's a big problem for the player base and it's really working against Starch.
The game gives you some help by providing a very helpful tutorial and a cheat sheet (which tells you how much each shape is worth) also when you pick up a shape and drop it back where you originally had it doesn't count against your moves when you drop it back down.
The Verdict
Level: A Simple Puzzle Game is a really quick game meant to be played in short bursts. It's challenging, brutal, and addictive but with no way to easily get lives or moves back and with no music to support its crafting gameplay I don't see me coming back to this game that often. It's good to challenge the player but waiting 20 minutes to continue that challenge is not something that I feel is complementing with this games fast mechanics.
Brutally disappointing
The Score - 68%
Level is a great game but there is simply just too much affecting the gamer to continue playing it once your lives are gone,well unless you got the dough.

[embedyt] http://www.youtube.com/watch?v=oyQxJiH6280[/embedyt]