Unlock new items, sell your town, and invite amiibo villagers to your town in the new "Welcome amiibo" update.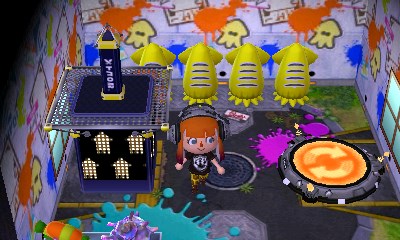 This morning's Animal Crossing "Welcome amiibo" Direct, presented by Woodstock attendee Harvey (that's Harv for short, and Haaaaaaarv for long) and the ever classy KK Slider, gave us a thorough look at the new update (available now).
Harvey's campground, accessible to all Animal Crossing: New Leaf players, serves as a hub point for amiibo visitors, who park their RVs and sell their furniture.  They can also be convinced to stay in your town for good, meaning you can ensure your town is full of cats, bunnies, or grumpy koalas as you please (assuming, at least, you've got some amiibo).
If you don't have amiibo, you can still buy some items off of Haaaaarv, including some found nowhere else.  The campsite is even visited sometimes by key characters like Jingle on occassion, lending players a new way to enjoy the holidays.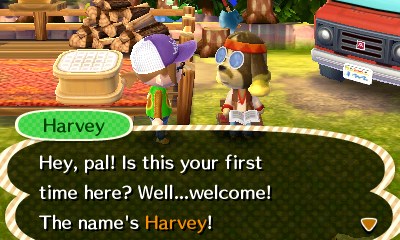 "Welcome amiibo" also introduces a new currency in MEOW tickets (Mutual E of Wealth), earned via accomplishing your daily tasks (shopping, weeding, and so on) via a new sidequest system.  These tickets stand in for bells in all campsite purchases.
The "Welcome amiibo" update doesn't end there: players who own Happy Home Designer can order enormous  items to decorate their house, and players can even unlock the ability to decorate their homes via the touch screen, a la one of Happy Home Designer's most welcome features.
There's more: the Animal Crossing amiibo Festival desert island game is now accessible via New Leaf, and the island paradise we all know from netting enormous beetles for easy riches has recieved a couple of handy inclusions, among them the ability to mute other players and leave the island from anywhere.  And if you find yourself running out of space, even with four museum rooms, a huge house, and closet space, then you may enjoy the new store room, accessible from anywhere, which lets you store all of your hoarded goods.
And if you're eager to jump back in to New Leaf, but don't want to return to a mess of a town, you now have the ability to restart your town completely by selling the entire thing to Tom Nook, in exchange for a healthy sum of bells (think millions: the town in the presentation sold for over 15 mil).
To see what else is new, and to understand Harv on a spiritual level, man, be sure to check out the direct in its entirety.
The "Welcome amiibo" update is available now.