Fresh from TVs Arrow comes the latest piece in Icon Heroes' series of paperweights.
Green Arrow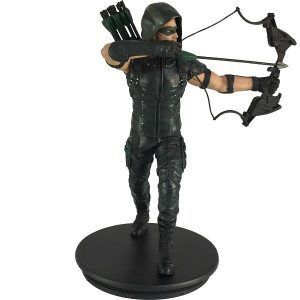 It doesn't take a fan of DC Comics to recognize this one, since Arrow has been a TV mainstay for a few years now. He's also led into the DC TV universe in general as well, with a bevy of shows now on the CW network. Even though he might not be all that important in the comics, Green Arrow is massively important for DC's TV show fans. And that's just who we've got here.
Actor Stephen Amell's version of Green Arrow is perfectly captured with this paperweight. He appears as he did in season 4 of the show, when the character finally adopted the 'Green Arrow' designation. And while this is technically a paperweight, he'd obviously make a pretty keen statue as well. I mean, he'd fit right in on the old bookshelf, no?
At 8″ tall, this statue is the perfect scale for that too. And he should have plenty of detail, thanks to being hand painted. Want collectivity? Green Arrow is also individually numbered and comes complete with a Certificate of Authenticity. He'll cost you $50 USD and will be available in the first quarter of 2017.