Armikrog is from the creators of EarthWorm Jim and stars nobody's favorite space explorer, Tommynaut. From Versus Evil games and Pencil Test Studios, comes a new point and click Claymation adventure game that is fun and has a great cast of talented voice actors.
In the beginning, Tommynaut heads to the planet Spiro 5 while on a mission to find P-tonium. His planet's sole source of fuel is P-tonium, and the supply has dried up. On his way to Spiro 5, Tommynaut crash lands only to wake up in a wacky space prison, the Armikrog, which is full of… weirdos.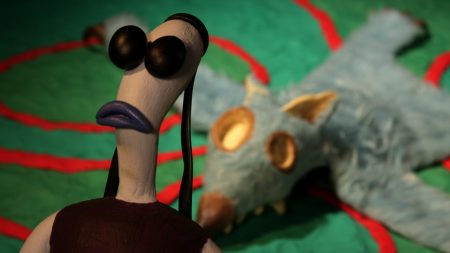 Gameplay
The gameplay for Armikrog is simple. Players will point and click at items on the screen that correspond with either solving a puzzle or movement across the screen. Some of the puzzles may consist of collecting items while others take place in a single room. Tommynaut can carry items inside his abdomen (ewww -ed) and use these items to solve puzzles.
An interesting gameplay feature is the ability to switch between Tommynaut and Beak-Beak, which players will need to do in order to solve some of the puzzles.During parts of the game, players will need to play as Beak-Beak as he helps solve puzzles for Tommynaut. As Beak-Beak, players will have access to secret rooms that only Beak-Beak can see. These secret tunnels will transport Beak-Beak from one room to another.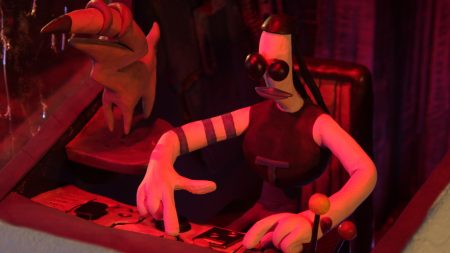 A fun detail about Beak-Beak by the way – he is colorblind so players will experience the world in black and white. Tommaynaut and Beak-Beak will have to work in unison if they are to make it out of the Armikrog.
Along the way of their adventure, they will meet a lot of interesting characters too. Most of whom are voiced by some very talented actors.
Voice Acting
Tommynaut is voiced by everyone's favorite janitor in the sky, hailing from the satellite of love, Michael J. Nelson. Beak-Beak is voiced by Rob Paulsen, who also happen to voice one of the original Animaniacs, Yakko Warner. From "Napoleon Dynamite", Jon Heder lends his voice to the evil Vognaut.
The soundtrack was composed by Terry Scott Taylor. Claymation-gaming fans might know that name, as Taylor is an American song writer and has previously worked on another video game called Neverhood. This talented cast would be a waste without a great script however. So it's a good thing Doug TenNapel knows a thing or two about writing humor. TenNapel, who also wrote the Earthworm Jim series, wrote the script and story for Armikrog.
The amount of talent that went into this game is apparent. The script is witty and the puzzles are difficult, but rewarding. One thing about TenNapel is he always try to pitch a unique angle for each game experience. From being an earthworm to a space explorer, TenNapel does a great job of creating a new experience unlike any other on the market. The fact that the game is a Claymation adventure really brings home the whole new experience for console games.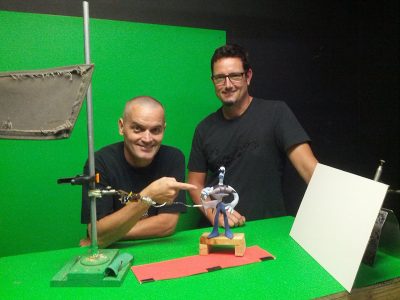 Claymation creation
The clay look here isn't just a hook that the developers made digitally. This is the real deal.
Armikrog was made by creating clay models of all the characters and the backgrounds. Then these models are photographed several thousand times and the game developers create an animation for the game out of that.
That's a really simplistic way to describe what ultimately takes thousands of hours. The models are fun and vibrant, and the backgrounds look amazing. The development team has done an excellent job of molding this game into a winner.
Molded into fine form
Sculpted good looks - 85%
A point-and-clay control scheme - 80%
Molded fun that's funny too - 90%
Armikrog is a niche game for a niche audience. As such, the puzzle adventure Claymation game may not appeal to everyone. This is unfortunate, as this is a fun game that is available to everyone of all ages. It's a nice 'change of pace' game with a funny story and some amazing voice acting. Players should not shy away because the title is not action pack with swords and lasers. Get out there and help Tommynaut and Beak-Beak escape the Armikrog and bring home the precious P-tonium in Armikrog, available now on the Xbox Store.