The Star Trek NY convention is this weekend (it started today) and publisher IDW will be in attendance with plenty for Trek fans to beam down for.
Stardate 90220.16… or something like that
Yes, big Star trek conventions are finally back in NYC! Took long enough, considering the last time there were consistent Trek cons was something like the late-90s (from memory). I digress though, because Star Trek Mission NY has officially begun as of today, September 2nd.
And as you might imagine, there'll be some nice little items for you to pick up. Yep, there'll be plenty of retailers on hand, not to mention guests to see. If you're a Trek fan, then IDW has to rank pretty high on that list too. They're the official source of Star Trek comic books these days, don't you know.
Now, to be fair, IDW had a panel presentation at the show in addition to the stuff that we'll cover below. Thing is, we picked up this story late, and it's kind of over by now. Editor-in-Chief Chris Ryall, Group Editor Sarah Gaydos, writer Mike Johnson, artist Derek Charm, and John-freaking-Byrne were all on hand.
Still though, even if you missed out on the panel (we did), there's still plenty for you to smile about. Oh, and uh, there's even still a chance to meet Mr. Byrne.
Exclusives and more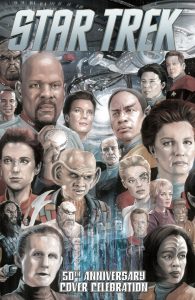 As I alluded to above, there is an exclusive book for you to grab a copy of at the IDW booth. Actually, there are two cool comics to take home if you weren't in Vegas for the Trek con there.
Both the first and second parts of a tryptic cover illustration will be on hand at booth #325, courtesy of IDW and artist J.K. Woodward. The trio of covers link together to show off 50 years of Star Trek's greatest characters.
On the first one, which you can also get at the booth, are the casts of the original series and The Next Generation. The second one is technically the exclusive for this show and includes the image to the right with DS9 and Voyager. Both of them will run you $10.00 USD a piece.
As for the third, that hasn't been revealed yet, but I've got to believe that the smart money is on it being the casts of Enterprise and the rebooted movie series. Those are just guesses though. We'll find out if I'm even remotely correct come NYCC time next month. That's when the third and final piece of this puzzles goes on sale.
But wait, there's more!
The IDW booth is set to be a hoppin' place this weekend. You'll be able to get autographs from Derek Charm, Mike Johnson, and -yes- John Byrne himself. As this is a Star Trek con though, Byrne will only be signing his stuff from that property, so don't bother bringing anything else to the booth. Fortunately, something tells me that it should be fairly easy to find some Trek comics of his on the show floor for him to sign.
As always too when it comes to big cons, everything is first come, first served. So if you want in on the exclusive books or an autograph, you might want to get there early. Star Trek Mission NY runs through this Sunday at the Javits Convention Center in Manhattan.