The big PAX West show kicks off tomorrow, and Dark Horse will have a cool Halo exclusive for you to pick up and take home.
I have one of Dark Horse's Pelican drop ships from Halo, and it's super-cool. Well made and brimming with detail, it's one of my favorite items in my Halo collection. I picked it up at SDCC this past Summer and it looks all kind of spiffy (and shiny!) on my desktop.
Right there with the Peli too, is the Banshee, a signature ship from the series. Actually, I think the Banshee might be even more iconic than the Pelican for some fans. It's definitely more intrinsic to the various Halo games' missions, since the Chief tends to commandeer them and fly 'em around quite a bit.
A Halo exclusive, and a little bonus too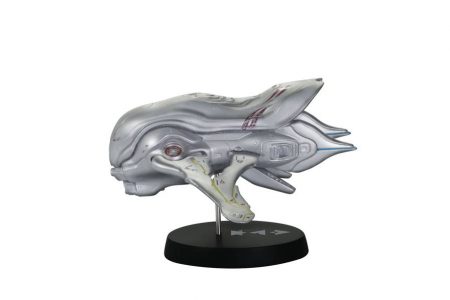 So, bottom line, if you have one of Dark Horse's Pelicans, then this Halo Covenant Banshee Ultra replica should be a mighty tempting addition to your collection. And fortunately, you can get one starting tomorrow (if you're at PAX West in Seattle).
The ship is limited to a run of only 150 units, which is pretty low of a count. So, standard con rules apply. Meaning that, if you want one, get to the booth early. There's even a cool little incentive for fans to pick one up. Dark Horse will be handing out download codes for Halo 5: Guardians REQ Packs with purchase.
Oh and as this 5″ scale ship is numbered so low, there's a one per person (per day) rule. Keep that I'm mind too. The Halo Covenant Banshee Ultra replica will cost you $50.00 USD.