Whilst Gamescon is underway,  more characters have been revealed for the superhero fighter Injustice 2. Running along the theme of the Suicide Squad hype, we get to see Harley Quinn and Deadshot in action. Both look absolutely amazing within their design, but how do their moves fair?
Harley looks to have some fresh new moves, whilst retaining some classic ones from the original Injustice. Harley has brought a couple of friends this time in the form of Bud and Lou, the pet hyenas. This maybe her trait for the game, ordering the pet dogs to do her bidding. In the previous title, Harley's trait was randomised between dynamite, health boost or a damage boost when activated. Having a consistent trait this time round that's not based on luck is much appreciated.
For the more classic moves, Harley still has her 'tantrum stance', where she lies on the floor, having access to a few tricks. One shown is 'bullet frenzy' where she lets rip with her hand guns. We also get to see a bit of her 'super move' where she sends her pets to have a snack on the opponent. With her trusty mallet and baseball bat, she looks to be one crazy character within the roster.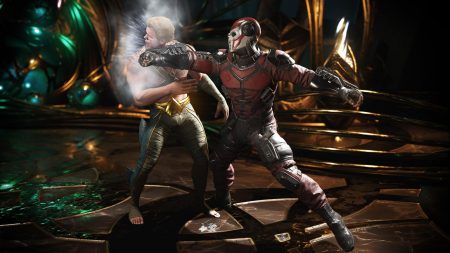 Deadshot is the new comer and will make his debut appearance within this sequel. From the initial gameplay, a lot of his moves revolve around the wrist cannons with varying ammunition. There's a machine gun attachment, flamethrower, maybe even a shotgun attachment. We even see a glimpse of his 'super move' performing some devastating close quarters combat, before finishing it in the most stylish way possible. It won't be surprising if NetherRealm take some queues form their Jacqui Briggs character from Mortal Kombat X. Utilising his wrist cannons and assault rifle, Deadshot looks to be deadly both far away and up close.
A question that is popping up due to Deadshot's appearance is whether Deathstroke will be in the roster. Since they're both assassins and are similar in certain ways, it looks like Deadshot took his place this time around.
Looks like the fans have got what they wanted, Suicide Squad characters are finally in Injustice. It's pretty good timing to release such characters now as Suicide Squad's film is still doing well within the box office. Previously Ed Boon has been teasing fans on his twitter feed about the inclusion of Red Hood. If you want to read more it's available here.  Injustice 2 is set to be released in 2017 for PS4 and Xbox One.