Put off by the high price point on the Xbox One's Elite controller? Then you just might dig what Power A is offering with the Fusion.
Get customized
It's not a stretch to say that Microsoft's Elite controller for the Xbox One is one of the very best in gaming. The pad allows gamers to swap in and out components as they please, truly making the pad their own. It even adds in functionality with a pair of back-mounted buttons. All in all , pretty awesome.
Thing is, it's also expensive. The Xbox One Elite controller runs about $149.99 USD, and that's a lot for just about anyone to drop on a pad. Personally, I've wanted one for a while, but the cost is prohibitive- and I'm just as susceptible as any gamer to the upgrade bug.
Fortunately, Power A has a solution. Meet the Fusion.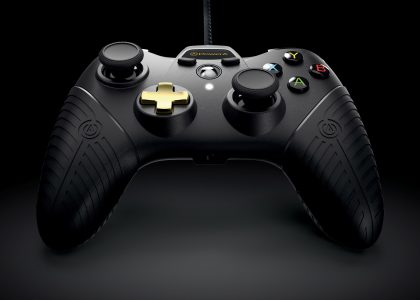 Cast in black and gold, the Fusion is impressive looking right off the bat. Past the looks though, it's got quite a bit going for it.
Firstly, yes, this is a corded controller. In an age where cordless is normal and expected, that might put some off, but from the looks of things, there's enough offered here to make up for it. And the cord is almost 10 feet long anyway (9.8′), so it shouldn't be much of an issue. It's also braided, which is a nicety that's always appreciated on something like this.
Features aplenty
Now for the good stuff. The Fusion has a total of six interchangeable joysticks, and that adds up to a possible 14 different combinations. So it's pretty adaptable and seems like it should be able to fit any taste and preference. The sticks look nicely varied too, with larger and smaller ones, as well as top grooves that should help keep thumbs in place.
You'll also find a pair of buttons on the rear of the unit called Pro Gaming Buttons. These switches are totally customizable, and you can map almost any in-game action to them for faster response. Power A gives the example of making them melee or grenade switches in action games. Easier and faster to hit than clicking in a thumbstick, or even a bumper for that matter.
Speaking of shoulder buttons, the Fusion has trigger locks built in. Once activated, those should allow gamers to pull off the always-desirable 'rapid fire'. So instead of hitting the trigger multiple times to blast your foes, once might just be good enough.
Impulse Triggers, rumble motors (dual), and a stereo jack are all built-in as well, so the Fusion should be every bit the Xbox One controller that the stock pad is.
Seems like a pretty awesome controller, especially for the price. And what might that be? Well, the Fusion will run you $49.99 USD when it hits shelves next month. That's a pretty nice price for what you're getting.
Oh and if you prefer a white and gold color scheme, that'll be hitting too. You can get that version exclusively at GameStop stores. Little bit of a throwback to the original Xbox 360 controller with that one.