One of the best Transformers games of all time arrives on the Xbox One.
Update: Looks like Fall of Cybertron is out on the PS4 as well. Robots for everyone!
More than meets the eye
Thanks to the magic of backwards-compatibility, you can play Transformers: Fall of Cybertron right now on your Xbox One. The game is the second title in a pair of releases that Activision produced a few years back, both of which are awesome. Yes, it's kind of odd that Activision would move ahead with the sequel and not release the original, but it's a nice treat so just go with it.
If you're unfamiliar, the game was developed by High Moon and showcases the end of the first massive war between the Autobots and Decepticons, and the events that led to the fall of their homeworld. If you want, you could look at it as a prequel to the TV show. In truth though, it's way closer to the current IDW-published comics in tone.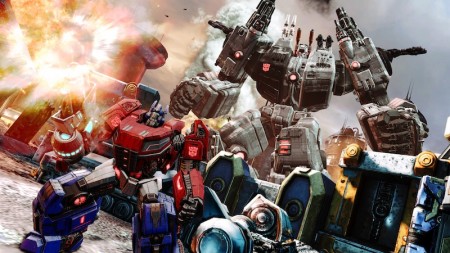 This isn't a fun and lighthearted romp, or a story with the goofiness of the Gen1 cartoon. It's certainly not bloody, since the are robots we're talking about here, but characters do get deactivated. And it's pretty mature for what it is, in terms of the story elements that is.
Also worth a mention is that it's loaded with great voice work, including Peter Cullen as Prime. Oh, and you get to play as Grimlock and the combiner Bruticus. If you're a Transformers fan and you haven't played it, I doubt you'll be disappointed.