Harrowing Tales await… Fafrhd and the Grey Mouser!!!
I will be the first to admit that I was a bit apprehensive when I received a copy of "Fafhrd and The Grey Mouser: The Cloud of Hate and Other Stories." Apprehensive because I knew that the art would be dated and I wasn't sure if I would be able to relate to the adventures of Fritz Leiber's beloved duo. Boy, was I wrong. I haven't had so much fun reading comics in a long time. There was no huge overarching story that was confusing or had several spin offs or different timelines to follow. These stories were straight to the point, had loads of adventure, fighting and the love of wine and comely women. It honestly felt like experiencing the old school Sinbad movies from the 70's. It really makes you feel like a kid again. The art was surprisingly very good considering how long it has aged. Thankfully, Fritz Leiber's work is like a fine wine and ages with grace. The language is funny sometimes as it will sound as if they are English gentlemen while other times you can read the natural American style of speak come out. Kind of like watching an American on film doing an accent. Sometimes it is great and other times it is a little jarring, but not enough to ruin how great these stories are and make you feel like a kid again.
A product of it's time… but in a good way.
Reading "Fafhrd and the Grey Mouser" was just boatloads of fun. The stories revolve around two hardened warriors. The first is Fafhrd the Barbarian who stands at 7 feet tall and hails from the north. Presumably, he is of some kind of Nordic or Scandinavian descent. He does battle with his long sword and brute force, which no man has been able to best. The Grey Mouser is the self proclaimed greatest swordsman in the world. GM constantly proves this in his battles and his blade has always reached its mark. While they are avoiding any wrong doing or mischief, the men find comfort in the barrels of wine they consume at the local bars or in the arms of a "comely woman" as they so eloquently put it. They more often than not, mind their own business but being the two best swordsmen in the world makes them targets for thieves and covens of miscreants.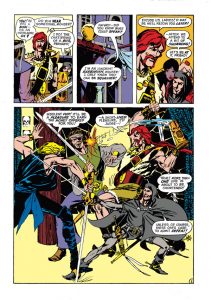 Reading this trade felt like a blast from the past akin to listening to old Lone Ranger radio shows. The language is dated and both characters are extreme archetypes. One is large and burly and constantly talks about wine and women while the other is small and spry with an ego to boot who also has a fascination for the opposite sex. Women are always clad in revealing clothing and at the disposal of our heroes. While misogyny is huge in this book, it is, again, very much a product of it's time when we were less worried about offending anyone. These were classic tales that were just good old fashioned fun. They were simple. You knew who the good guys were, you knew who the bad guys were. There may have been something mystical element laced throughout. Good guys beat bad guys, then Good guys go look for a place to drink with women to spend the time with. You always felt good at the end of a story because you always had closure. No twists, no turns, it was all straightforward classic fun and I cannot recommend this book any higher for all. You will genuinely enjoy the heck out of this.
Overall
If you were a fan of the Sinbad movies or grew up listening to radio shows and don't mind old age archetypes, then these comics are for you. If you don't mind "men being men" and battling bad guys for treasure, then these comics are for you. If you don't mind older comic book art from the 70's and think Fritz Leiber's work is second to none, then these comics are for you. I highly recommend.
Some Classic Action and Fun!
Art - 80%
Story - 85%
Characters - 90%
Overall, Fafhrd and The Grey Mouser has a strong collection of some of Fritz Leiber's famed comic adventures. The stories are packed with action, intrigue, mystery and adventure! The art and stories are absolute products of their time... and I loved every one of them.