Andy Samberg and the Lonely Island crew deliver a hilarious sendup of the current state of pop music in Popstar.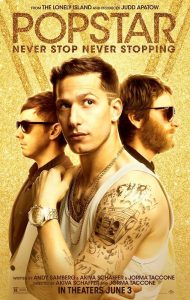 Things were going pretty awesome for pop music sensation, singer/rapper Conner4real (played by Andy Samberg). Fresh off his stint as a member of his group The Style Boys, Conner had the world on a string as he embarked on a blockbuster solo career… well, till his second album dropped anyway.
Loaded up with some the worst tunes to come out of the music industry ever (read: some incredibly funny stuff), the disc tanked so hard that Rolling Stone tagged its review with the poop emoji as a score. That'd be a new one even for us here at BG… especially since we don't use pictures as scores (though now they've got me thinking).
Fortunately in the case of Popstar, that's not appropriate anyway, because I can't remember the last time I laughed so hard in a theater. Granted, I don't go to see a ton of comedies at the movies to begin with, but trust me when I say that Popstar is something special.
Written by the Lonely Island trio of Samberg, Akiva Schaffer, and Jorma Taccone, Poster was produced by all of the above as well, plus Judd Apatow. The film is half shot as a documentary and half (maybe a little less than half) traditionally shot. Taccone and Schaffer actually did the directing here as well and did a bang-up job of it. They crafted a fantastic mix that manages to not only tell a story, but also pokes ample fun at the docs that you see cranked out on MTV and VH1 on a regular basis, right down to the hard-to-hear off camera questions asked by the filmmakers.
And those fictional-filmmakers follow Conner pretty much everywhere, through the highs of announcing his sophomore album and posting the first song from it, to the realization that he might just be a has-been after a series of disasters befall him. His rise and tumble down the fame-mountain is only part of the story here though, as the other part involves Conner and the additional two-thirds of the Style Boyz, who are played by Taccone and Schaffer (yes, they wear a hell of a lot of hats in this movie).
Though he's a solo star. Conner is best remembered as a member of the Style Boys even years after they broke up. They've been fractured since he had a public battle with Schaffer's Lawrence, and basically relegated Taccone's Owen to being little more than a pretend DJ who spins his jams from an old school iPod. Some of this might sound a little dramatic for a comedy, but not to worry as it all comes across in a comedic way.
Also great are the sheer amount of cameos in this film. Aside from Sarah Silverman and Tim Meadows, who both play parts of Conner's management team, stars from Saturday Night Live and the music industry in general are everywhere in Popstar. No really, I mean everywhere. Most of the cameo's are great as most all the stars play themselves, weighing in on Conner via the documentary being shot. Some only last a few seconds as the character runs into them here and there as well, but I was surprised at the amount of them that pop up more than once. Some definitely seemed just a little overused, but that might just be me.
I have to also go back here a little, and mention the music again, because it's great. And I mean that in the sense that it's hysterical. Conner's songs are so tremendously terrible that they're awesome, and the things that he does in his shows as the story rolls on are comedy gold. The whole theater was laughing uncontrollably at certain parts (I won't spoil which ones), but the creative team here just knows what it's doing.
All in all, Popstar is great fun and Samberg, Taccone, and Schaffer play off of one another perfectly. This might sound a little odd, but at times, it really reminded me of Ben Stiller's Zoolander, which was a send-up of the modeling industry.
They're totally different movies of course, and this one's a lot gruffer in certain ways (there's a ton of cursing and some downright shocking nudity), but the main themes are similar. And that's not knocking anything by the way. I'm a really big fan of the first Zoolander, so as far as I'm concerned that's a massive compliment.
With a laugh-packed script and a great combination of filming styles, as well as some really impressive set pieces for Conner's shows, Popstar is a movie that you don't want to miss out on if you're looking for an above-average amount of guffaws in between the big Summer blockbusters.
Never Stop Never Stopping
The Lonely Island crew delivers - 90%
Popstar is a well-crafted movie that mixes documentary style shooting with traditional filmmaking. It's loaded up with genuine laugh-out-loud moments too, and a fantastic cast that's spot-on throughout. Although I did think that some of the guest-stars were used a tad too much, this is a can't miss comedy, especially for Lonely Island fans.