The world of Fable lives again!
Were you a fan of Fable? Saddened to see the closing of Lionshead Studios?
Flaming Fowl Studios, a brand new indie games developer started by a number of long-term ex-Lionhead developers, has been working with the Fable properties for the last 18 months, and now brings us a Kickstarter for Fable Fortune.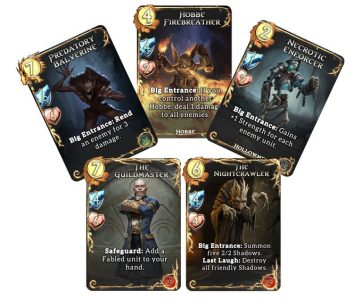 Fable Fortune brings us a collectable card game (CCG), that offers the Fable style of leveling up, as well as the choices of morality: good vs evil.
In only a few days, (at the time of this writing), the Kickstarter has rallied over 700 backers, and over $35,000. This is a noble start, bu looking to raise $365,000 for the development of such a game, Flaming Fowl Studios has a quite the challenge ahead of them. Luckily the Fable community have been loyal followers, raising some of the Fable titles to 'game of the year' status.
If you prefer punching the smug faces of heroes and citizens in locations such as Fairfax Castle, or leading a band of pitchfork-wielding peasants into the dark shadows of the local cemetery, you'll be tasked with quests unique to these locations and more.