How does one even begin to break down the amount of adventure, complexity, and fun offered by 3030 Deathwar Redux? 
Let's start with the premise.  3030 Deathwar Redux is a unique blend Indiana Jones, Guardians of the Galaxy, and Cowboy Bebop with a large dose of fantastic house and trap music.  Add in loads of mechanics from other sci-fi games such as EVE Online and you've got yourself one hell of an adventure!
3030 Deathwar Redux is produced by a UK duo called Bird in Sky. They've been working on the project since 2006, and although it was released in 2007, it never quite got the attention it deserved. Developer Max Dohme of Crunchy Leaf Games stepped in and helped launch a remastered version for 2016.
The amount of depth to this game is immense. You start your space adventure as the slightly sarcastic, carefree space-junk collector John Falcon and his trusty sidekick robot, Kent. Your ship gets impounded by the Space Police, whom, at least, are kind enough to give you some currency and a junker of a ship to get you by. There's no waiting to jump into this story.  Instead, the game jump-starts you with space pirates gunning for your head!  The flow of the story is as quick or as slow as you want it to be, with as many quests and side-quests as you can manage!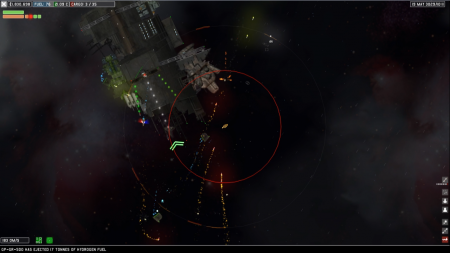 Right out the door you're spending a few hours just getting acquainted with the mechanics of the game with the story progressing in necessity as you learn. Some of the best mechanics of the game include a rather in-depth trading system with a built in economy. You can purchase and sell salvaged goods, gear, and ships. Using in-game currency, you can upgrade your ships for your personal need. Want to transport astronomical amounts of cargo or mine an asteroid belt? Build a big cargo ship! Need to get somewhere fast? Build a faster, smaller ship! Battle space pirates? Yeaup, you got it, build a battle-ready ship! The system is so in-depth it feels a lot like EVE Online but without the real-time, multi-player driven aspect.  If you enjoy working with an in-game exchange system, it's well worth your time to explore and will leave you feeling like Captain Mal.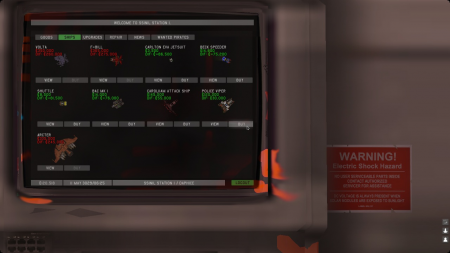 Besides the plethora of quests and side-quests to complete, the trading system, the mining and transportation systems, and the ship building abilities, 3030 Deathwar Redux includes some incredibly fun and innovative additions that really polish this gem of an indie game up! There are secret wormholes, asteroid fields, and plenty of space stations to try and find throughout the game.  Furthermore, you're able to navigate through space using a relatively friendly Star-Map that will guide you through this universe.
As incredibly in-depth as 3030 Deathwar Redux is, the dialogue and the controls are difficult to chew through at times.  The UI is improved from its earlier release to allow for a large text mode which is incredibly helpful, but it's sometimes difficult when you're first playing to remember all of the shortcuts to pull up your maps, character info, and other important screens in the game.  Not to mention, trying to board a space station is awkward and uncomfortable for even my small hand (tab + 1 + D).
The dialogue is a bit lackluster, predictable, and sometimes just unimaginative. Thankfully, you can skip through it quickly, but there are so many names and places that pop up during the conversation that it's imperative you pay attention.  Dialogue, depending on the choices you make (and there are tons of options, which is nice), seemingly impact which quests will pop up for you.  While this doesn't break the game in any way, for a literary enthusiast it might come off as rushed, boring, and too cliché.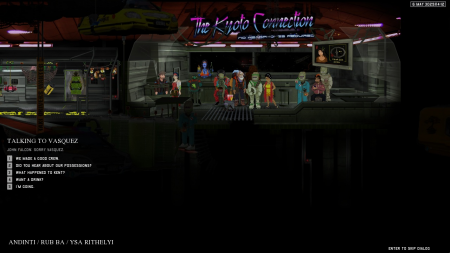 Making up for the lack of deeply intriguing dialogue, 3030 Deathwar Redux features gorgeous pixel illustrations. The art adds personality to each character and many of the background characters will put a quick smile on your face once you recognize who they are (my personal favorite was Crow T. Robot!). From spaceship to space station to just space, your eyes will never be bored with truly stunning art!  Couple this with an incredible soundtrack and you've got yourself an amazing game worth investing your time and money into!
Crunchy Leaf Games made a great decision in extending the soundtrack for the game.  While it's no Cowboy Bebop, the music will have you space jamming in no time!  Every track adds a rich element to the feel of the game and keeps your mind entertained while you warp long distances in space.  Another unique feature the developers implemented was the ability to toggle the music to "YouTube Mode," making it easier for gaming commentators to upload their videos on YouTube without being flagged for music copyright issues!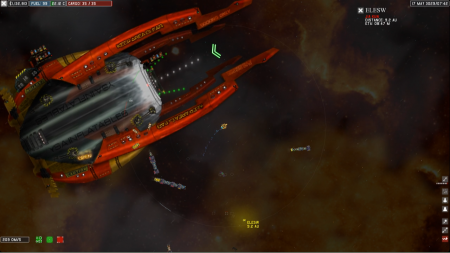 Overall, 3030 Deathwar Redux is way out of this world.  For a pixelated game with a bumpin' soundtrack, detailed artwork, complex economy mechanics, decent combat system, and a seemingly infinite number of quests to keep you busy, this game is a MUST HAVE for any space adventure lover!
You can pick up 3030 Deathwar Redux on Steam for $9.99 here.
3030 Deathwar Redux
Graphics - As Beautiful As the Milky Way - 86%
Controls - Nothing Kaylee Couldn't Handle - 80%
Content - More Deep Than Space 9 - 90%
Music - These Space Jams are a Slam Dunk - 95%
Replayability - Astronomical Amount of Content Already - 70%
84
%
Treasure salvaged from an asteroid field
Colorful, pixel graphics, a rockin' soundtrack, and an incredible amount of adventure, 3030 Deathwar Redux is an excellent game for any sci-fi fan! For only $9.99 on Steam, this should be in your library.