Got your attention? If you're a rock fan from the 90s, then chances are you'll want to check out IDW's tantalizingly titled, Nirvana-centric book, Who Killed Kurt Cobain?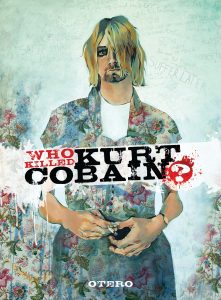 The band Nirvana was a pretty huge part of the 90s music scene, and its lead singer Kurt Cobain loomed large over the entire decade, with an influence that's still rumbling onward even today… as does his death. A fairly open and shut case of suicide, Cobain's end has nonetheless been the subject of no end of speculation. While few have said anything about the man himself not being the one who decided to end things, there's been quite a bit of conjecture from those who think that there may have been someone else nudging him towards that decision.
But although this book's title might make you think it look at that question, it's actually about something totally different. I had no idea this was the case, but there was a note written out to someone named "Boddah" tied to Cobain's death. Who's Boddah? Cobain's childhood imaginary friend.
And it's through his nonexistent eyes that we get to experience Cobain's life from a most intimate viewpoint. Who Killed Kurt Cobain? is adapted from a book called Le Roman de Boddah by Heloise Guay de Bellissen, and follows the music star from his humble beginnings all the way up to the point that he and Nirvana sold out arena after arena – all the while struggling with his own angst.
As artist and creator Nicolas Otero explains, it's a story that's very important to him.
"I was 17 when Nirvana and Kurt Cobain came to Paris in 1992," recalls artist Nicolas Otero. "I saw them live the day before my graduation and it was… explosive, mind-blowing, sonic, and so powerful. When Kurt put an end to his life in 1994, I remember hearing the name of Boddah for the first time. I thought it could be a fantastic way to tell Kurt's story, with Boddah as the narrator. Twenty years later, my hair is not long nor dirty, I'm the father of three wonderful kids, and life has given me such a great gift. I can finally draw this little voice and explore what I imagined Kurt's mind and life were inside. I hope you'll enjoy reading it as I enjoyed doing it. I'm 17 again today."

"Nirvana blew the world open my freshman year of high school and were gone before graduation. In 1993 I saw them play on Halloween with Kurt dressed as Barney the dinosaur" said editor, Justin Eisinger. "But I didn't know about Boddah. I'd never really thought about this mythical life — Kurt's — from any perspective other than MTV-spawned voyeur. What Otero does here is impressive. His exploration peels back the curtain, showing another way to perceive this person's life and accomplishments. Boddah's narration is endearing and haunting… leading us to question what we expect to find inside those we idolize. After all, what do we know of our heroes?"
Who Killed Kurt Cobain? Find out the story behind his rise and fall when the book by the same name hits stores this October.