A brand new five-issue run of Mike Mignola and co's victorian-era horror series Witchfinder is on the way.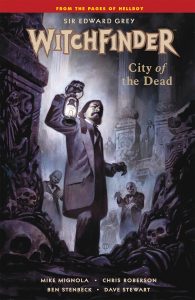 Mignola's other big series from Dark Horse, which actually ties into his biggest hit Hellboy from time to time, Sir Edward Grey: Witchfinder has proven pretty popular for dark horror fans and those who dig an occasional foray into the weird. I'm not even really into horror per se, but I love the book. I've read through a fe of the limited series' that have hit retail over the last few years and enjoyed them all.
And while we've yet to see an ongoing book for the character, you better believe that the mini-series train is still a-rolling. The latest? It brings in a touch of the rotting (formerly) dead with Witchfinder: City of the Dead.
"One of the great things about the monster tropes in horror fiction is that they don't have to be limited to any specific setting," said Chris Roberson. "Werewolf stories aren't all set in Eastern Europe, vampire stories don't have to take place in Victorian London, and zombies needn't be relegated to the post-apocalyptic scenario. There's a lot of fun to be had from taking these types of characters and transposing them into different historical periods and cultural milieus."
If you don't recognize the name there, Roberson co-created iZombie for DC, which has since made the transition to television on the CW network. What he brings to the new book is more than superficial, as Sir Edward Grey's latest adventure is as much his idea as anyones.
And actually Mignola and Roberson add to what's effectively an all-star team of talent on this one. Ben Stenbeck continues his reign of terror as the main artist, while Michelle Madsen takes up the coloring chores. And rounding things out is the super-talented Julián Totino Tedesco, who'll be cranking out some fantastic cover art throughout the run.
Mignola and Roberson are currently co-writing the acclaimed HELLBOY & THE BPRD adventures. "Chris's pitch for WITCHFINDER: CITY OF THE DEAD is what made us all realize he was a perfect writer to add to our little world," said Mike Mignola. "Chris and Ben Stenbeck have outdone themselves on this book. I'm super excited about it!"

Stenbeck returns to WITCHFINDER, the title he helped launched in 2009, before working on BALTIMORE and the acclaimed FRANKENSTEIN UNDERGROUND. "It's fantastic to return to the world of WITCHFINDER," said Ben Stenbeck. "I get to go back to Edward Grey's London and help to flesh it out a bit more. Hopefully I've gotten better at it in the 7 years since I last drew WITCHFINDER."

"I've always been an enormous fan of Victorian-era occult detectives, and of Mignola's Sir Edward Grey in particular," said Roberson. "One of the greatest things about Hellboy's world is the richness of its backstory, and it's been a real thrill to get to explore some of the uncharted territory and fill in some of the gaps in the map."
Set to run for five issues, we'll have more about Witchfinder: City of the Dead as soon as it's released.