Hot on the heels of the new game's announcement, comes word of a fantastic looking Collector's Edition from Triforce Productions.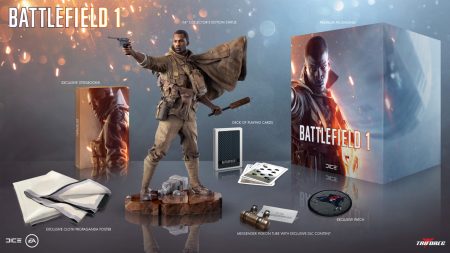 One of the coolest replica-makers out there, Triforce has their hands in pretty much everything from Halo to Injustice, including additions to some of the coolest special and collector's editions out there. And it's on that note that they're set to announce the Collector's Edition for Battlefield 1.
As you might imagine, a game set in World War 1 might have some nice little pack-ins included in a CE, and that's exactly what you'll find here with a pigeon tube, set of playing cards, and more, all in the box with the prerequisite statue (this is Triforce after all).
Here's what you get besides a copy of the game:
Collector's Edition Statue (14″ Tall)
Exclusive Steel book
Exclusive cloth poster
Deck of playing cards
Messenger pigeon tube with exclusive DLC content
Exclusive patch
Premium packaging
All of the above will be available right alongside the standard Xbox One and PS4 copies of Battlefield 1 when they hit retail on October 21st of this year. Pre-Orders are live right now in the US (other parts of the globe still incoming) for this limited-run CE, and you can get in on Amazon's listing of it by clicking here.