M.A.S.K. returns this Fall with a brand new comic from IDW.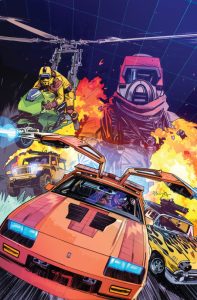 I've always thought that Mobile Armored Strike Kommand was one of the most criminally-underrated cartoons of the '80s. It was everywhere for a while, with a super-popular cartoon and a freaking awesome toy line… and then it just kind of disappeared.
Well, it did till last year anyway, when toy-maker (and license-holder) Hasbro teased that something was on the way. First, a major motion picture was announced, attached to the new shared-universe coming from the toy-giant and Universal Pictures, and now we're getting a comic series too.
"We are so proud to be able to continue growing the impressive relationship between IDW Publishing and Hasbro with this new M.A.S.K. comic series," said IDW Managing Editor David Hedgecock. "We can't wait to bring the high-octane, unique, brand of storytelling to this book that we know fans of M.A.S.K. will expect!"

"We've had tremendous success with IDW over the years in re-launching classic brands for a contemporary audience, while still paying appropriate homage to their origins," said Michael Kelly, Head of Global Publishing at Hasbro. "We are thrilled to welcome a new team to this library of heroes, as M.A.S.K. joins the ranks of JEM & THE HOLOGRAMS, MICRONAUTS, and THE TRANSFORMERS."
From Brandon Easton and Tony Vargas, the book will pay big-time homage to the classic source material, but will definitely be modernizing the property. According to the publisher, "this is where sophisticated stories meet cutting edge designs while not afraid to look in the rearview mirror and pay tribute to its origins. It is the editorial and creative team's intention to focus attention on the multi-cultural heritage of the show, presenting a contemporary M.A.S.K. to fans in a unique, yet familiar, way."
So a little of the old and a little of the new, and that should equal up to something that M.A.S.K. fans can get behind. Of course, it does't hurt any that that art looks mighty fine, going by that cover illustration. That's some spot-on work with the original designs.
As a big fan of the property, I can't wait. With Micronauts #1 on the racks right now, and ROM hitting with a special story on Free Comic Book Day, look for the Hasbro resurgence to continue this Autumn with M.A.S.K.