While Alien 3 might not have been the most fan-loved of the original films, it's hard not to love the design of the Dog Alien.
Some might call it the most horrible and hard to take part of Alien 3, but the death of the cute lil' doggie in that movie led to the birth of one of the coolest Alien designs seen since the first film's Big Chap. Yes while the toy line at the time, video games galore, and the Aliens comics from Dark Horse were perfectly willing to explore different xenos, the movies were a different story. Basically, they stayed with the original format through two movies. It's certainly not like it's not cool enough, but a little variety is a good thing, and that's where Alien 3 came in.
The Dog Alien changed all of the above. Using the DNA of the aforementioned dog as it's basis, the xenomorph that sprang forth from that canine was leaner, meaner, and -some might say- cooler than its brethren that we'd seen in the original/Aliens.
And while the beast has been the subject of action figures before, but I can't think of any time that I've seen it cast as a statue, and definitely not one that lights up. Which coincidently, brings us to this-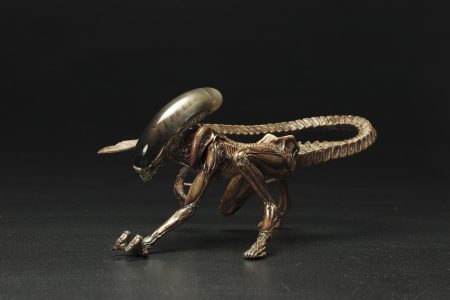 The newest addition to Kotobukiya's ARTFX+ statue series, the Dog Alien will stand in at 1/10th scale and include a display base that has swappable parts. Even cooler, it has an LED light, so you can craft your very own atmospheric Alien encounter for your desktop or Alien collection shelf.
Koto just couldn't wait to announce this piece, with today being Alien Day and all, but the release is still a ways off. You can look forward to being thankful for the Alien 3 Dog Alien ARTFX+ statue when it arrives at retail this coming November with a price tag of $89.99 USD.