DST's new line of Ghostbusters figures is picking up steam with the release of toys based on Peter Venkman, Egon Spengler, and Dana Barrett are now available.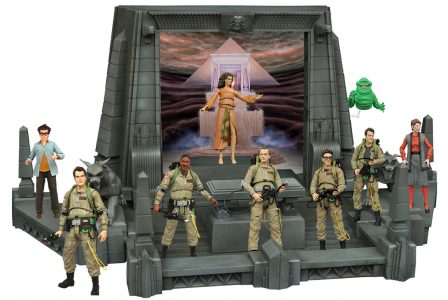 Oh that's mighty-pretty isn't it? I mean, as a fan of the classic Ghostbusters films, there isn't too much more iconic than that rooftop battle at the close of the first movie, and there's never been a playset made with a nod to that till now with Diamond Select Toys' Ghostbusters series of figures. Sure we've had firehouses before, but the Gozer fight? This one's a first.
To get this big beautiful assemblage of plastic though, you've got to go all in on the figure line, since the whole thing's broken up into pieces included with each toy – and only with the ones sold at comic and specialty shops, not at Toys R Us'. Fortunately for fans, these are pretty wicked figs.
Series 1 has been on the shelves for a while, with Ray Stanz, Winston Zeddemore, and Louis Tully landing at retail late last year. Now with Venkman, Egon, and Dana available, the fab four is complete along with the two biggest periphery characters in the first film.
Oh, and later this Summer there's a bunch more arriving. Here's what's on tap (warning: you're going to want all of them):
Series 3, featuring Slimer, Janine, and Quitting Time Ray will ship later this summer, and pre-orders are open for all three figures starting this week. As with Series 2, each will come with a diorama piece at comic shops and specialty stores, as well as accessories: Ray will come with his ghostbusting gear; Janine will come with a phone, buzzer and takeout containers; and Slimer will come with two interchangeable faces, one of them stuffed with hot dogs!

Series 4, featuring Gozer, Walter Peck and Slimed Peter will follow later on this year, and Series 5 with Terror Dog, Library Ghost and Taxi Driver Ghost will ship in early 2017. All 15 figures will be required to build the rooftop diorama, and those diorama parts will only be available with the Select versions of the figures, in the larger, specialty market-exclusive packaging, with spine artwork.