Slashing its way onto PC and consoles later this fall, comes a new real time strategy game from Mimimi Productions and Daedalic Entertainment titled, Shadow Tactics – Blades of Shogun. Set in in the year 1615, players will control a group of rebel samurai as they look to restore their homeland. The team will consist of five different types samurai.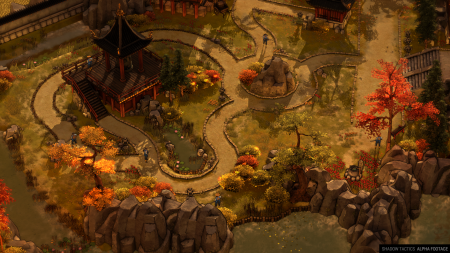 Players must use the team of five different samurai and work in unison to complete challenging levels. Hayato is the agile Ninja and can eliminate his enemies from the shadows. Samurai Mugen is the tank of the group and can fight several enemies at once. Aiko the Geisha will fool her enemies with camouflage and distractions. Trap enemies with Yuki, who specializes in traps and deceptions. Snipe enemies with the final character in the group, Takuma, who also happens to be the eldest in the group of samurai. Together they must work to solve puzzles and take out enemies all in the name of the rebellion.
The popular real time strategy, as known as RTS, genre has been lacking new innovative gameplay. The developers believe the new strategies created with the emphasis on stealth, bring a new type of gameplay unseen in the RTS genre. Shadow Tactics – Blades of Shogun is expected to be released this coming fall. Check out the trailer below and let me know what you think in the comments.